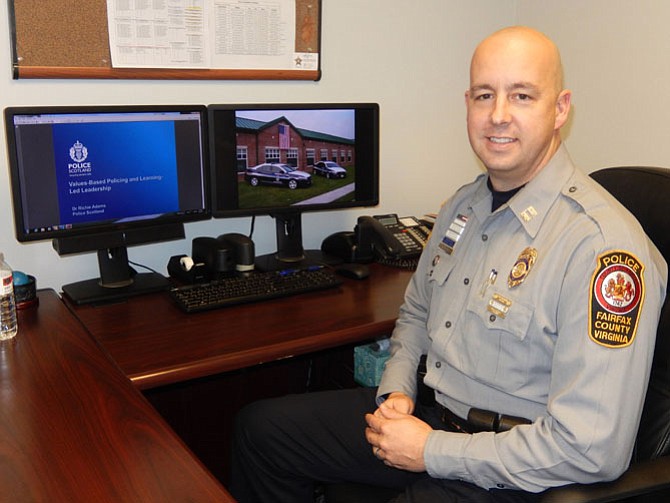 Right from the start, Bob Blakley planned to become a police officer. Born in Clearwater, Fla., he joined the Police Explorers in 10th grade. And when his family moved to Georgia the next year, he started an Explorer post there.
"People say it's a calling," said Blakley. "I just knew that's what I wanted to do."
He's now a police captain and, since January, commander of the Sully District Station. And his roots in law enforcement run deep. He served four years with the Marines, including a stint as a West Wing sentry at the White House for 14 months.
Blakley then attended the State Police Academy in Richmond and worked four years in Fairfax County on SWAT teams and on the Tactical Field Force (civil disturbance) Unit. He was also a road trooper.
"But my passion was DUIs," he said. "I especially worked nights and, in 2001, I received a plaque from MADD for the number of drunk-driving arrests I'd made."
In June 2002, though, he left and joined the Fairfax County Police Department to take advantage of the opportunities it offered, without having to move around the state and uproot his family so much. (Blakley married at age 18, and he and his wife of almost 20 years now have four children, daughters 12 and 9, and sons, 7 and 5).
Besides, he said, "I liked Fairfax County and Northern Virginia. I had friends in this department and had heard great things about it." He began as a patrol officer in West Springfield, serving on that station's Selective Enforcement Team. On night patrol, he wrote tickets and did stakeouts and various extra things patrol officers don't have time to do.
Moving to the Traffic Division in September 2005, he was a detective in the Crash Reconstruction Unit. "Advocating for the deceased, you put in extra work," said Blakley. "And it was uncomfortable explaining to the victim's family why someone got a minor charge for something that resulted in a death. But I loved the science of the physical investigation, working backward, reconstructing the accident and determining the angles and speed."
He was then promoted to sergeant and, in June 2007, worked midnight and day shifts on patrol in Mount Vernon. "It was a busy station and a new environment, so it was probably the most fun time in my career," he said. "I was a new supervisor with a great group of aggressive police officers on the midnight squad."
In 2009, Blakley went to the Internal Affairs Bureau as an investigator. "I believe in accountability and am rules-oriented, so it was perfect for me," he said. "I investigated, cleared and held officers accountable for allegations of misconduct."
While there, he was promoted to second lieutenant and, in September 2010, was transferred to the Major Crimes Division as supervisor for the Financial Crimes Squad. "I was in charge of 13 detectives, plus two detectives who investigated the crimes," he said. "They take in 5,000 reports a year, so I created the Financial Crimes Online Reporting System so we could do it more efficiently. Citizens can go online and file their fraud reports that go straight to the detectives. We also provide online information about scams and fraud prevention."
Then in May 2011, Blakley returned to Internal Affairs, this time also investigating allegations of criminal misconduct against police. And he became an instructor for the International Association of Chiefs of Police, in its Leadership in Police Organizations program – which is the FCPD's leadership training program. He's certified to teach this intensive, three-week program and still does it today.
Blakley went back to Mount Vernon in March 2012 as a patrol supervisor of the midnight squad. That December, he was promoted to first lieutenant – a commander rank – and transferred to the Police Information Technology Bureau as the supervisor.
"I oversaw the Computer-Aided Dispatch and police radios," he said. "That was a very busy and intense job." Also that year, he graduated from GMU with a master's in public administration. (In 2009, he'd graduated from the University of Richmond with a bachelor's in Human Resources Management and a minor in Leadership).
Then in 2013, Blakley became commander of the Police Department's Peer Support Team, which provides counseling to officers after a critical incident or personal crisis. He's still its co-commander, along with Capt. Ed O'Carroll, under whom Blakley served as the Sully District Station's assistant commander when he came here in March 2014.
O'Carroll is now director of the Department's Public Information Office and Blakley, now a captain, took over the reins at Sully on Jan. 7. "As a captain, for my first assignment to be a station commander, I'm very honored," he said. "That doesn't always happen; I'm just thrilled to be here."