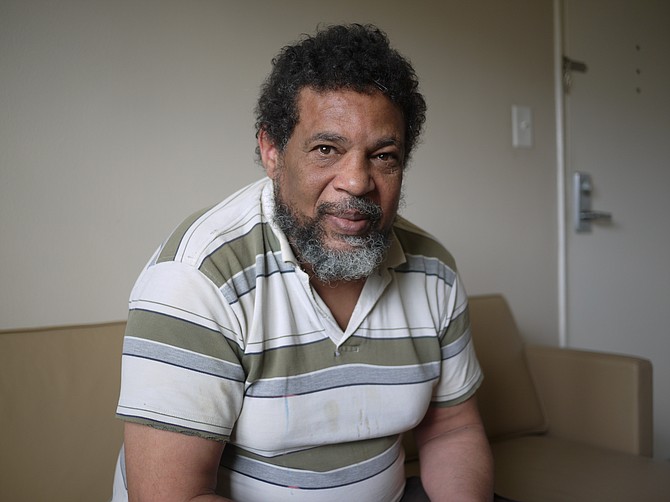 Arlington — John Barrett enlisted in the U.S. Air Force in 1971 after dropping out of high school. He volunteered to go to Vietnam and worked on aircraft that flew missions over the jungle. Barrett did three tours in Vietnam, from 1972 to 1975. He came home, staying in the Air Force until it was clear he had a mental health issue which had been getting worse. Diagnosed with paranoid schizophrenia, Barrett was given a medical discharge from the service in 1982. He had a disability pension, and he had his medicines from the V.A., but he had nowhere to go. His family in Philadelphia wouldn't or couldn't help.
Barrett went out on the street. He spent some time at the Gospel Rescue Ministries and Central Union Mission in D.C. When it got cold, he went inside. The hardest thing for him over the years was the cold. "There were whole days when I just shivered from the cold," he said. The winter shelter is only open from November to March. Barrett drank alcohol to stave off the cold. He was arrested for carrying a hunting knife and being drunk in public. He stayed on the streets — never panhandling for money — for almost 30 years.
In 2011, Sam Gatewood, an outreach worker at A-Span noticed the veteran at the Emergency Winter Shelter. Barrett was soft spoken and kept to himself; most people didn't know anything about him. But Gatewood found out he had veteran's benefits and a mental health disability. He asked him if he wanted to join the program. Barrett did, but he told Gatewood he didn't think he was eligible for anything: he couldn't get services because of his "record" for carrying a concealed weapon. He had no address, no credit card, no bank, no IRS account.
Gatewood, and then Ayana Bellamy, walked him through the plan. He was eligible for a VA loan to buy a home. Once he had a temporary place to stay, and therefore an address, he had to take the long road back. He had to clean up his credit record. There were many items on the credit report that weren't even his. He had to go to the IRS. He had to get a credit history.
He trusted his A-span crew, Bellamy in particular: whatever she told him to do, he did. If Bellamy told him to show up at the IRS offices, he was there, on time. Bellamy beams with pride at Barrett. She says he will actually buy his own home with a VA home loan which he can pay back with his VA benefits, within months. Now, sitting in his living room, Barrett gives Bellamy a smile.
Asked what the greatest thing about having a home is: "Freedom," Barrett said. "I wasn't free when I was homeless. You have to be out of the shelter by 8 a.m., you have to be in by 6. Now, I can sleep late. I can cook my own food. And if I am cold, I can get warm."