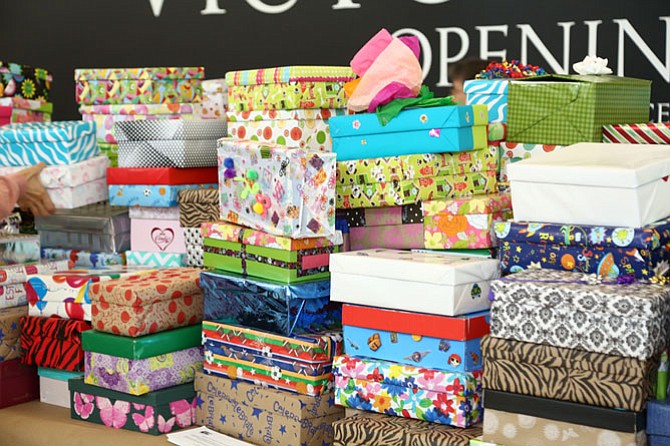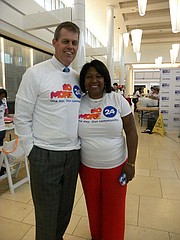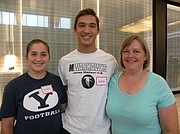 Donors, nonprofits and companies raised nearly $1.5 million during Do More 24 on Thursday, June 4. At Tysons Corner Center, volunteers from companies, churches and nonprofit organizations decorated shoeboxes filled with personal care items to be distributed to area nonprofit organizations.
Last year, volunteers stuffed 4,000 shoeboxes and this year, Levina Kim, of United Way of the National Capital Area, hopes to fill more. Donations came from individuals, families and companies such as Wegman's.
Volunteer Thalia Sanders, of Capitol Heights, Md., came because she wanted to see the start of a project. She came with a group from Shabach! Ministries, and she said that volunteering "puts a face to the people" she has been giving to.
United Way NCA chairman Ted Davies, of Oakton, said that donating to a local charity makes an impact in the community where one lives. "Money goes right back into the place that's close to your home," he said.
Rosie Allen-Herring, president and CEO of the United Way NCA said that this is an opportunity to really and truly engage not just around philanthropy but around community building.
Do More 24 "may be the impetus but we expect people to give more, do more and be more as a community," she said.
More than 600 organizations in D.C., Northern Virginia and Maryland participated in Do More 24. Nonprofits who achieved certain donation levels overall and at specific times were given monetary awards from corporate sponsors as incentives to raise funds. For information about Do More 24 movement go to https://domore24.org/; for United Way NCA visit http://www.unitedwaynca.org/.