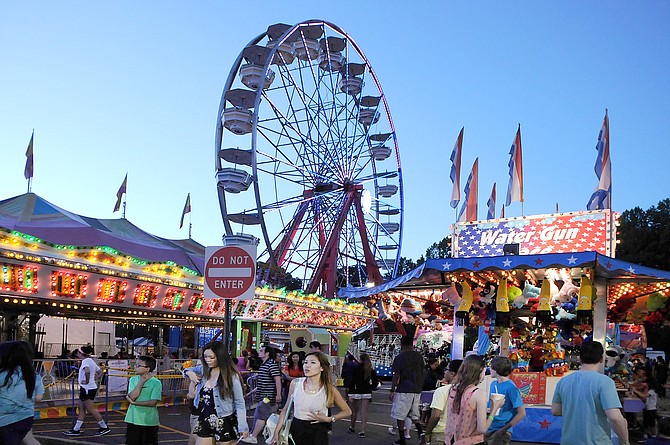 Thursday-Saturday/June 4-6
Huge Summer Book Sale. Thursday: 3-9 p.m. Friday: 10 a.m. - 6 p.m. Saturday: 10 a.m. - 5 p.m. Richard Byrd Library, 7250 Commerce St., Springfield. Fiction, history, hobbies, vintage, and children's books, in pristine condition.
Friends of Burke Centre Library Summer Used Book Sale. Thursday: 1-9 p.m. Friday: 10 a.m. - 6 p.m. Saturday: 10 a.m. - 5 p.m. Burke Centre Library, 5935 Freds Oak Road, Burke. Great selection of books to read and gift for summer vacation.
Friday-Sunday/June 5-7
Celebrate Fairfax! Festival. Friday: 6 p.m.-midnight; Saturday: 10 a.m.-midnight; and Sunday: 11 a.m.-7p.m. Fairfax County Government Center, 12000 Government Center Parkway, Fairfax. Musical performances, rides, games and food. Call 703-324-3247 or visit www.celebratefairfax.com/.
Friday/June 5
Herndon Friday Night Live. 6:30 p.m. 777 Lynn Street, Herndon. Listen to great music on Friday nights during the summer. Visit herndonrocks.com/schedule.php for more.
Vienna's Summer on the Green Concert Series. 6:30 p.m. Vienna Town Green, 144 Maple Avenue E, Vienna. Full schedule here: http://www.viennava.gov/DocumentCenter/View/2640
Rising 7th Graders Party. 7-10 p.m. Old Firehouse Teen Center, 1440 Chain Bridge Rd., McLean. $5 Member/$10 All others.
The B-52s. 8 p.m. Wolf Trap, 1645 Trap Road, Vienna. Known as the world's greatest party band, The B-52s remain one of pop rock's beloved and enduring forces—dance your heart out to their underground club anthems like "Love Shack," "Rock Lobster," "Roam," and new favorites. Tickets: $25-$50. www.wolftrap.org.
Pokemon League. 3 p.m. Patrick Henry Library, 10304 Lynnhaven Place, Oakton. Drop-in and play Pokemon with your friends.
Saturday/June 6
The McLean Symphony Season Finale. 7:30 p.m. The Alden, 1234 Ingleside Avenue, McLean. Tickets: adult: $25; seniors: $20; youth with student ID: $15; children 12 and under admitted free.
Great Falls Farmers Market. 9 a.m. - 1 p.m. Village Centre, 778 Walker Road, Great Falls.
An Evening with the Creators of SERIAL. 8 p.m. Wolf Trap, 1645 Trap Road, Vienna. Go behind the scenes with the creators of the world's most gripping and popular podcast as they talk crime, modern journalism, and how their This American Life spin-off project became "the greatest murder mystery you will ever hear." (The Guardian.) Tickets: $25-$45. www.wolftrap.org.
Hestia Ma'at Exhibit Artist Reception. 7-9 p.m. ArtSpace Herndon, 750 Center Street, Herndon. An opening reception of this bold exhibit of art and photography resonating with the artists' spirit of inner peace and faith in life. The exhibit and artists reception are free and open to the public.
The 2nd Annual Born to Run Memorial 5K and Family Fun Run. 8:30 a.m. Sponsored by the
Franklin Middle PTA, it's in tribute to former Franklin P.E. teacher Jannine Parisi, a domestic-violence victim who died Nov. 20, 2013. The majority of proceeds will go to the National Alliance on Mental Illness of Northern Virginia. All participants will receive medals, and those registered by May 24 will receive commemorative T-shirts. For more information and to register, go to https://prracing.enmotive.com.
History of the C&O Canal. 2 p.m. Reston Regional Library, 119235 Bowman Towne Drive.Mike High, author of the C&O Canal Companion, will present an illustrated lecture on the ways Great Falls, the Potomac River, and the C&O Canal shaped the history of Northern Virginia. Books will be available for sale and signing. Adults.
Summer Bird Count. 6:45 a.m. - Noon. Walker Nature Center, 11450 Glade Drive, Reston. Adults. Meet local bird experts, learn tips on identification and have fun while helping us obtain important information to help our feathered friends. Reservations required by June 3. For more information, email naturecenter@reston.org, or call 703-476-9689 and press 5.
Herdnon Fornightly 20th Birthday. 11 a.m. Herndon Library, 768 Center Street, Herndon. Beautiful Fortnightly Library building opened its doors in June 1995. Help us celebrate our birthday with crafts, stories, a balloon artist, and other party activities. Story time starts at 11 a.m., with crafts and balloon artist from 12-2 p.m. All Ages.
Reston Concerts on the Town. 7:30-10 p.m. Reston Town Center. The 25th season is extended through September 5 and kicks off with swing/jump blues favorite Big Joe & the Dynaflows. Bring lawn chairs or picnic blankets and enjoy live music in the Pavilion Saturday nights. Free. Rain or shine.
Spring Campfire Saturdays. 7 p.m. Lake Accotink Park, 7500 Accotink Park Road, Springfield. An evening campfire for the whole family. Adventure awaits as you explore the woodlands and lake front spots where wildlife hides and resides, guided by a naturalist. Program ends with a cozy campfire, bring whatever you like to roast, smores provided. $8-$10.
Mount Vernon Nights: Melodime. 7 p.m. Workhouse Arts Center, 9518 Workhouse Way, Lorton. Mount Vernon Nights, a program of the Fairfax County Park Authority, will be returning to the Workhouse for it's fourth year in a row. Enjoy free public concerts featuring a different genre and musical group each week.
Historic Pohick Church First Saturday Tours. 1-3 p.m. 9301 Richmond Road, Lorton. During the colonial period, Pohick Church was the congregation of many of our country's most prominent families, including the Washingtons, Masons and Fairfaxes. The Historic Pohick Church Docent Guild will give free guided tours of the historic colonial church.
Virginia Brew and 'Cue. 4-7 p.m. See a model home while tasting brews from seven of Virginia's best breweries such as Starr Hill, Bold Rock and 3 Brothers. Your registration fee helps ensure LCAC has funding for summer food needs (the demand in the pantry increases while donations decrease), summer lunch program and client utility assistance. Tickets must be purchased in advance and are $30/per person and $50/per couple. $20 is tax deductible for each person. Register online: http://events.r20.constantcontact.com/register/event?oeidk=a07eaxwne591946631d&llr=kr89tydab.
Backyards: Designing Function and Privacy. 10-11:30 a.m. Green Spring Gardens, 4603 Green Spring Rd., Alexandria. Expand your home living space by creating a beautiful and functional backyard. Garden designer Amy Knotts Neiberline shares design ideas for functional entertainment spaces, children's play spaces, and backyard storage. Learn great ways to create privacy using plant material and good design. $22. Call 703-642-5173 to register.
Sunday/June 7
Great Falls Concerts on the Green. Great Falls Village Centre Green. Come out on Sundays and listen to some live music. Full schedule here: http://www.celebrategreatfalls.org/concerts-on-the-green/.
Concerts at the Alden. 3 p.m. The Alden, 1234 Ingleside Avenue, McLean. Free.
Lousiana Swamp Romp Allen Toussaint Rebirth Brass Band Pine Leaf Boys. 8 p.m. Wolf Trap, 1645 Trap Road, Vienna. Dance to infectious Cajun and blues tunes at Wolf Trap's cherished New Orleans-style summer party featuring live music, food, and dancing—this year's lineup includes the award-winning "Southern Knight" who "brought the New Orleans sound to the national stage" (Rock and Roll Hall of Fame) and more. Tickets: $30-$35. www.wolftrap.org.
Sunday Country Western Dance. 6:30-9:30 p.m. Line dance, two-step, shuffle and swing the night away to popular country/western tunes played by RCC's DJ. Dances are held monthly in the Community Room, which offers a spacious wooden dance floor and a smoke free environment. Refreshments will be provided. No square or contra dancing, please. Ticket admission purchased at the door. Ticket Price: $5. Non-Reston Ticket Price: $10.
Saturday-Sunday/June 6-7
Arlington Rose Foundation's 59th Rose Show. Saturday: 1-6 p.m. Sunday: 11 a.m. - 4 p.m. Merrifield Garden Center- Fair Oaks location, 8132 Lee Highway, Falls Church. The Rose Show includes over 50 categories of rose excellence including photography, fragrance and a silent auction. Rose growers, both novice and expert, compete for awards. Consulting Rosarians will be available for any questions you may have about identifying and growing roses. Free. Contact 703-371-9351 or pam1powers@aol.com.