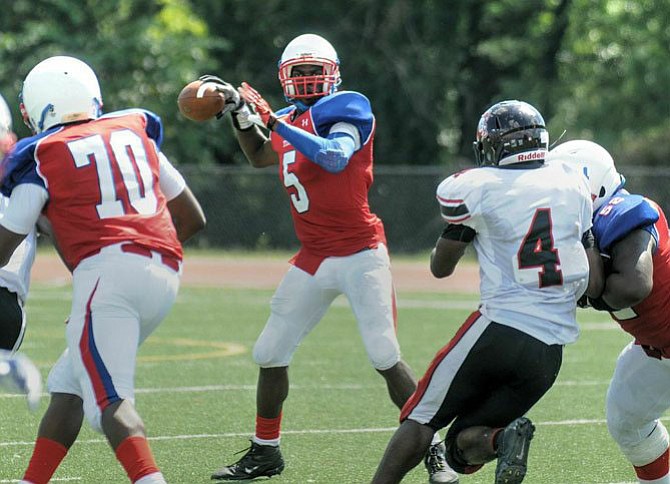 Darius Holland spent three seasons on the T.C. Williams varsity football team, taking over as the Titans' starting quarterback as a junior in 2013. Holland was raw, but his size (6 feet 3, 185 pounds), arm strength and athleticism made him a playmaker.
In his first season as a varsity starter, Holland helped T.C. Williams finish with a 7-3 regular-season record and reach the playoffs for the first time in more than two decades.
The following season, Holland earned first­team all­Conference 7 honors as a utility athlete. The Titans struggled to a 2-8 record in 2014 and Holland played a significant role in each victory. In a season-opening win over Dunbar (Washington, D.C.), he passed for 121 yards and two touchdowns, and rushed for 93 yards and another score. His finest performance came against Lee, when the Titans snapped a seven­game losing streak with a 40-38 come-from-behind win. Holland rushed 16 times for 178 yards and three touchdowns against the Lancers, and passed for 171 yards and two more touchdowns.
Holland, who also played basketball and ran track at T.C. Williams, will continue his football career at Fairmont State University in Fairmont, West Virginia. The Falcons are Division II and compete in the NCAA's Mountain East Conference.
Holland recently participated in a Q&A via email with the Gazette Packet.
Q: You'll be playing football at Fairmont State next season. What made FSU the right choice for you?
Holland: I chose FSU because it offers my major, it was a full ride and the players and students on campus are very welcoming.
Q: What position(s) will you play?
Holland: I will be playing either quarterback or defensive back.
Q: What are you most looking forward to about going to college?
Holland: The change of environment and the advancement of my education.
Q: At what age did you start playing football?
Holland: I started playing organized football at the age of 8 but I was playing football all my life.
Q: When did you realize playing college football was an option for you?
Holland: I realized during my sophomore year of high school that I had the potential to be a college football player.
Q: What is your favorite memory of playing football at T.C. Williams?
Holland: I have two favorite memories of playing football for T.C. One was meeting coach Herman Boone and the other was beating West Potomac (in 2013) and securing a playoff spot.
Q: What do you like to do when you're not playing a sport?
Holland: When I'm not playing sports, I like to work out, play cards with friends and family, hang out, and eat.
Q: Are you a pro sports fan? Which team(s) do you root for?
Holland: My favorite professional sports teams are all the local ones: Redskins, Wizards, Nationals, and Capitals.
Q: What location is the farthest you've traveled from the Washington, D.C metro area?
Holland: The farthest I've traveled from the D.C. metro area was Hawaii for a family vacation.
Q: What's your favorite food?
Holland: My favorite foods would have to be steak and cornbread.
Q: Who is your favorite music artist? Why?
Holland: I don't really have a favorite music artist because I try to appreciate all styles of music.
Q: What is your favorite movie? Why?
Holland: My two favorite movies would be "Lion King" and "Coming to America," because they were two movies that I loved growing up and they are classics.