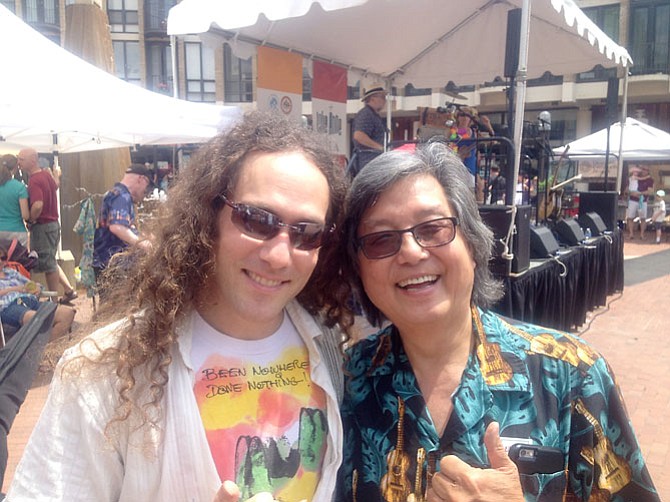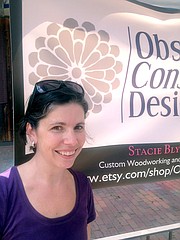 A signature summer event of Reston is the Lake Anne annual Ukulele Festival, held this year on Saturday, July 11. The free festival featured performances by internationally known and local ukulele musicians, music demonstrations, open to the public jam session, vendors and family-friendly activities. "I drove from Arlington to attend this event," said patent agent Mihal Gross. Gross is a member of the ukulele group which meets at Cafe Montmartre, also located at Reston's Lake Anne Plaza.
The Saturday morning farmers market and craft market took place as usual, and many crafters stayed through the festival. For local merchants, the event brought in more visitors and patrons. "This is my favorite event at the plaza," said Doris Tyler, owner of Chesapeake Chocolates. Tyler has operated at Lake Anne since 2007, and offers a variety of chocolates, regional beers and wines. Chesapeake Chocolates is celebrating its 8th anniversary this year.
One of the vendors was Herndon resident Stacie Blythe, who brought some handmade instrument hangers. "My husband picked up the ukulele a year and a half ago," said Blythe. Musicians were able to display a variety of styles and approaches to music with the ukulele.
THE EVENT featured many artists, including Nashville musician Donna Frost. This was her first year performing at the Reston Ukulele Festival. Frost was invited to visit the festival some years earlier, and was inspired to learn the ukulele. "I was so blown away by the music, this festival was a key point in my life," said Frost. Frost played music from her album "Ukeabilly Mama."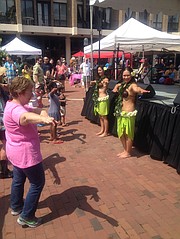 Many of the attendees agreed the ukulele is an interactive instrument, with an active community. This festival is the only ukulele festival in Northern Virginia, which has brought thousands of people to Lake Anne from across the region for this event. "At Lake Anne, we like to incorporate unique events," said marketing strategist Maurisa Potts, who attended the festival with her family. The family-friendly event brought many visitors of all ages to Lake Anne to hear the live music.
Oak Hill resident Glen Hirabayashi, a member of the Aloha Boys returned to perform again at the festival. Based out of the Washington D.C. area, the Aloha Boys have played at numerous functions including the Birchmere and The Kennedy Center. "This is a great event," said Hirabayashi, a founding member of the Aloha Boys. Hawaiian transplants, the founders of Aloha Boys met at Halau O' Aulani, a Hawaiian cultural school in Arlington, where their children were studying. They first formed their group to provide Hula music to the school.
Other featured artists included New Hampshire folk artist Stuart Fuchs who has played at festivals and theaters across the nation, and the band the Hula Monsters, which has been hailed for their ability to play a mix of swing, rockabilly, Hawaiian and blues. The Chantilly based Isa Pacifika Dancers gave a luau show and encouraged audience participation in a traditional Hawaiian dance.
THE FESTIVAL was hosted by the Lake Anne Merchants with support from the Reston Community Center, Friends of Lake Anne (FOLA), and the Northern Virginia Ukulele Ensemble. Reston's Lake Anne Plaza will host its 9th Annual Lake Anne Jazz Festival on Sept. 5 beginning at 2 p.m.