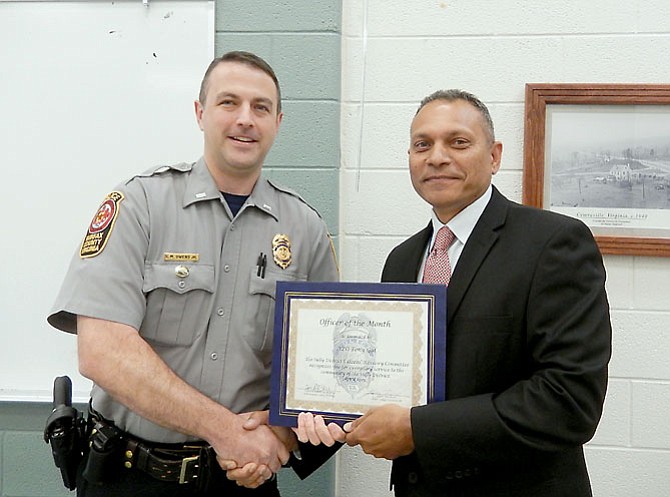 Auxiliary Police Officer Tauheed "Tony) Gul" was recently honored as the Sully District Police Station's Citizens Advisory Committee Officer of the Month. And in the letter nominating him, his supervisor, Lt. Tim Burgess, explained why.
"APO Gul has demonstrated strong teamwork traits, contributing significantly to community activities in the Sully District," wrote Burgess. "He volunteered 298 hours of time in 2014, including events like Touch a Truck, DWI checkpoints and patrols."
Burgess also noted two, particular events that year during which Gul dedicated his personal time to assist fellow officers and the community. The first one involved a bicycle safety day where the Sully District Station collaborated with the Chantilly Walmart to promote bicycle safety. Gul obtained vehicles, attached trailers, loaded equipment and served the people who visited the police department's display.

During the second one, he helped with the Boy Scouts Bicycle Rodeo and volunteered more than six hours of his day loading an equipment trailer, setting up cones and assisting with bike cone courses.

"Gul has continued to play an invaluable role in 2015 by continuing to assist the Crime Prevention Office with presentations and events," wrote Burgess. "He's consistently been the first to respond to the needs of the Crime Prevention office, often forfeiting evenings with his family to help support the department's mission. This support includes educational talks and police-friendly activities with local Scouts and businesses."
Burgess further noted that, any time a last-minute event has been scheduled, Gul has stepped up and done what he could to lend a hand. And in April, Gul also took the opportunity to attend Home Security Survey Training. As a result, he now has the knowledge to better understand crime prevention and to provide Fairfax County residents with security surveys for their homes.
"Much of the work that auxiliary police officers like Gul complete can be easily overlooked because [these officers] blend in with police squads to help enforce the law, complete special missions such as security or traffic control, and serve the community during special events," wrote Burgess. "An appreciation for our APO's is further realized due to the expectations placed on these officers. These expectations include: Remaining a member of the auxiliary program, completing the Fairfax County Auxiliary Police Academy, [fulfilling] continuing education requirements in order to remain sworn, qualifying at our firearms range on an annual basis, VCIN and CPR certifications, and a minimum volunteer requirement of 288 hours annually."
"APO Tony Gul's efforts are greatly appreciated," continued Burgess. "I commend him for a job well done and proudly nominate him for the Citizens Advisory Committee Award. The Fairfax County Police Department and the Sully District Station are grateful for his efforts and sacrifice in the service of our citizens."