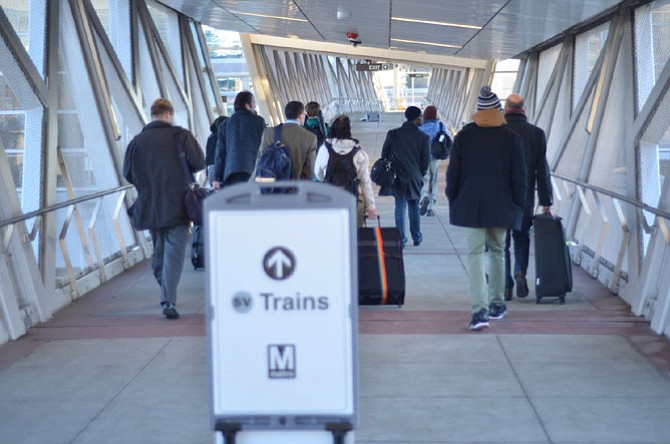 On July 26, 2014, Phase 1 of the Silver Line opened. Metro General Manager Richard Sarles introduced a list of speakers at the dedication ceremony in a tent at the new Wiehle-Reston East station in Reston. At a cost of $46,943 per foot, and $150 million over budget, the Silver Line rolled down 11.7 miles of subway track. And while the Northern Virginia public has not expressed buyer's remorse for the most expensive transportation project in the Washington region's history, there have been some critiques.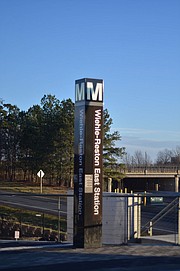 "The Silver Line is more convenient, but not without its drawbacks," said Herndon resident Richard Corcoran who commutes to Washington, D.C. for work. "The Reston parking deck is poorly labeled. If you take the wrong stairway, you will not find your car. Also the bus pickup in the garage is atrocious." A common complaint has been traffic bottle-necking at the entrances of the Wiehle-Reston East station at traffic rush hour during the weekdays. The Wiehle Avenue garage has seven parking levels, above and below ground. The Metro garage built by Fairfax County has several levels of mostly reserved parking.
THE SECOND PHASE of the Silver Line is set to include six stops, including one at Dulles International Airport. In January 2015 Washington Metropolitan Area Transportation Authority (WMATA) proposed plans to raise fares while offering less service. Among the changes under consideration is a 10-cent hike in Metrorail and Metrobus fares.
ABOUT 40 PERCENT of Fairfax Connector bus routes changed when the Silver Line opened July 26. Buses that took commuters to the Orange Line at West Falls Church were redirected to serve the new rail line. In Reston, it seems the Silver Line has greater traffic with daily commuters and tourists. "Many clients coming in from Ronald Reagan Airport use the Blue and Silver Line," said Kareem Khodary, an employee at Hyatt Regency Reston. "It has been popular for visitors who have been sightseeing, we get many guests who go on business trips and use the Silver Line."
For employees at locations including the Reston Town Center and Lake Anne Plaza, there has not been an increase in Silver Line use. "Some customers have mentioned they traveled on the Silver Line to our staff," said Liz Gardner, resident of Reston and manager of the shop Appalachian Spring located at Market Street in Reston Town Center. Gardner uses the Silver Line about twice a month. "I think the upcoming connection to Dulles Airport will be amazing."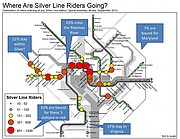 In November 2014, ridership at the Tysons Corner Station doubled on Black Friday. The station facilitated 10,800 riders entering or exiting over the course of the day, double its normal weekday volume of around 5,500. In Herndon, residents and councilmembers continue to ready the area for Phase 2 of the Silver Line which has been set to open in 2018.
"Phase 1 has done a lot to increase interest and awareness in the Town of Herndon as a place to live and locate businesses," said Grace H. Wolf, a resident of the Town of Herndon and member of the Town Council. "I think that more folks are aware of how easy it is to commute to and from Reston and Herndon now that the Silver Line is open, even though our stop is not yet built. I also see a lot more interest from developers and corporate entities in our community because Phase II is right around the corner." Wolf has ridden the Silver Line twice, once on the July inaugural ride and another time to visit Tysons.
"I have already used the silver line several times for various personal and business events," said Jennifer Baker, Vice Mayor of the Town of Herndon. "Small town charm coupled with easy access to public transportation is a winning combination," said Baker. Some Herndon residents see the extension of the metro through Herndon as a full circle moment for the Town which started out as a stop on the Washington and Old Dominion railroad. For now, many residents in Reston and Herndon hope the ongoing Silver Line project will be able to service the existing business and residential neighborhoods, and provide connectivity.