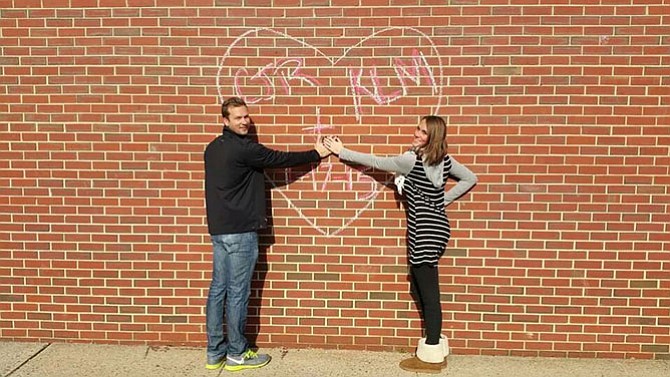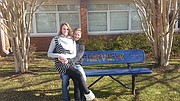 Chris Rowson, 29, and Kellie McDonald, 27, from Burke, got engaged on Saturday, Jan. 17 at Fairview Elementary School in Fairfax Station, where the couple were both students. McDonald was in shock when Rowson proposed, as she had suspected that he would do it in February during a planned trip to Florida. But despite being "taken off guard," she said that it could not have been a more perfect time and place. It was 17 years ago that McDonald moved with her family to Burke from Florida, and it was at Fairview Elementary where she and Rowson first got to know each other.
Though the couple went to Robinson Secondary School in Fairfax and Radford University in Radford, Va., they did not date each other until 2011, when both found themselves living in Arlington.
But Rowson has always noticed McDonald. "I used to peer at her and her dad at church," he said.
"They definitely had instant chemistry," said McDonald's best friend Alexa Love. Love has known the couple since elementary school and also attended Robinson Secondary School and Radford University.
Love and the couple's families were privy to the surprise proposal, and Rowson planned it to coincide with a family gathering. Rowson's little nephew, Caleb, was even enlisted in the ruse to get McDonald to the park at Fairview Elementary School, under the pretext of launching a toy outside.
Rowson said that he knew McDonald was the one when she spent time with his family and beckoned his father to sit next to her instead of the recliner--she did it so naturally. "I had a feeling that she should be a part of it," he said.
"She's quiet at the perfect times and she is outspoken at the perfect times...she is not of so many words but they're always the right words," said Rowson about his fiance.
McDonald is the executive director of Regenerative Orthopedics and Sports Medicine in Capitol Hill and Rockville. Rowson is a sales director at DubLabs. McDonald said she is thinking of an October wedding. The couple plans to move Alexandria with their dog Huxley.