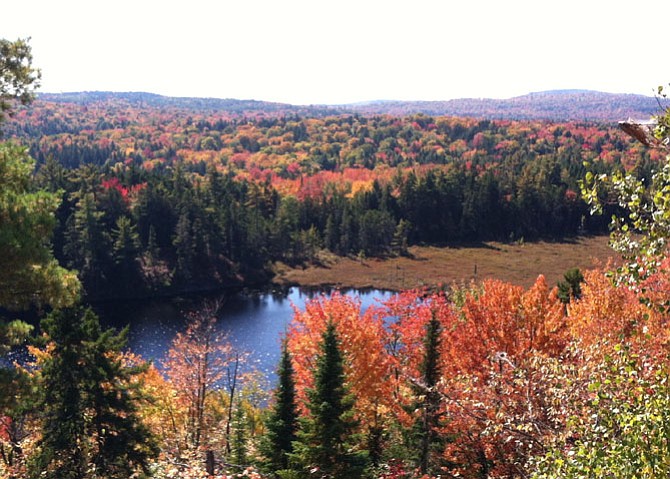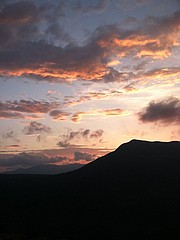 After hiking a few miles into the Appalachian Trail's southernmost point in Georgia, Yorktown High School alumnae James Randle came to a realization of what an enormous task he was taking on, attempting a thru-hike on the 2,180 mile Appalachian Trail from Georgia to Maine. The first night, March 24, with the temperatures dipped in the teens, he joined 40 hikers bundled up at Georgia's Hank Mountain Shelter -— strangers all bonded by a "shared struggle," Randle called it — hiking one of the most famous trails in the country.
"I was not prepared for it, it was just nuts, everybody was frigid," he said, looking ahead at the next five months, walking about 15 miles a day on the trail.
Long distance hiking is once again on the forefront with the recent film "Wild," starring Reese Witherspoon as Cheryl Strayed, a single woman that nearly hiked the entire Pacific Crest Trail by herself a few years ago. Randle read the book on which the movie is based, and with many years growing up as a Boy Scout, he welcomed the challenge, hopping on a bus to Georgia with a one-way ticket. On the bus, he talked about his upcoming adventure to fellow passengers, who thought he was crazy "and then you get there, and it's hard, and you think maybe they were right," he said.
Created in 1936, the Appalachian Trail winds through 12 states. Wildlife, flora and fauna, streams, mountains and other hikers paved the way for unforgettable experiences. From 1936 to 1969, only 59 recorded hikers completed the hike, and it wasn't until 1970, that the numbers of thru-hikers began to rise. In 10 years between 2000 and 2010, 5,890 thru-hikers completed the whole Appalachian Trail.
Edna Baden, staff director at the Potomac Appalachian Trail Club headquartered in Vienna, attempted to hike the Appalachian Trail in 1997. "It's pretty grueling to be out there for a few months," said Baden, even though, technically, she skipped the entire stretch in Virginia because she had walked it before, and fell short of the end in Maine. In the movie "Wild," Strayed, heard noises at night that turned out to be a caterpillar and a rabbit, but they sounded big. "You hear things and they seem so much bigger than they are," said Baden, "you learn to identify the sounds," she added, "bears are really pretty docile."
Randle was lucky that black bears, common on the trail, are so docile. On the trail in New Jersey, he went to pick blueberries that looked like dessert and a bear had eyed them as well. They both were picking from the same bush. "I let the bear have the berries," he said. In another instance, "I was in camp when there was a bear," and fellow hikers were shooing the bear away. With all those things that go bump in the night, "it's hard to fall asleep," he added.
Baden went with three other hikers, who planned the trip for two years before setting off. They all saved money, made car and mortgage payments ahead of time and "we planned the meals, nutrition wise and planned for what we could carry," she said. Once they are away from civilization and roads, "you become one with nature, that's why I hiked it," she said.
The Potomac Appalachian Trail Club is a 7,200-member hiking club that reinforces the spirit of hiking, and maintains 240 miles of the trail from Pennsylvania to Rockfish Gap, Va. "We do all of Shenandoah National Park," she said. Along their stretch, there are cabins that are rented out, shelters and the Bear Den Lodge and Hostel in Bluefield, Va.
On the trail though, the comradeship and sense of community is irreplaceable. "Hikers learn very quickly that no one hikes so far without help, from friends, family and strangers," said Randle. In "Wild," for example, Strayed saw the same faces at the various stops along the way, shared meals and got help when she needed it. At some hiker-oriented stops, there are boxes of equipment and food that are left behind from other hikers that are free for the next group, if needed. Some of the stops, whether it be a camping store, camp site or ranger station, accept packages mailed from home that contain more clothes, food and money the hikers need to keep going. "Trail Magic" is one word they use when some serendipity experiences just happen.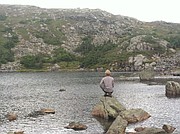 For Randle, townsfolk he met along the way invited him in for dinner and to stay for the night, but "there was some I politely declined," when they got too motherly or judgmental, Randle said. On her four month journey, Baden "made friends that I still have today, it's a hard thing to describe," she said.
Being out on the trail, walking 15 miles a day without a shower, can make things interesting. In the movie, a store clerk with a sensitive nose suggested Strayed practice better hygiene. Randle went for a three-week stretch without a shower. There's always a river or creek bath, but hiker rules suggest going downstream from others. In the myriad of pictures Randle had from the hike, he had a beard and moustache, a common look in Maine where "looking scruffy was helpful," for getting rides he said.
Trail names are a big part of the whole experience. Hikers had their birth names to start until something triggers a change. Strayed had such a big back pack, it was named "monster" and being alone, she got the name "Queen of the Pacific Crest Trail." Baden didn't want someone naming her along the way, and started humming Cat Steven's "Moonshadow," that became her trail name. Randle was known as "Poncho," because on the first few nights cold nights in Georgia, he wore every piece of clothing he brought, topped by a big purple poncho, so folks around the campfire just started calling him "poncho."
"People have different reasons," to thru-hike the Appalachian Trail, Baden said. While Strayed walked to honor her deceased mother and shed drug and relationship demons, "the first thru-hiker was World War II veteran Earl Shaeffer who walked off the war in 1948," Baden said. Baden wanted to get immersed in nature, and for Randle, it started out that his boss didn't believe he could do it, so it was a challenge. It became a bucket-list item he did "before you get locked in and can't get out," with mortgages, family and careers, he said.
Potomac Appalachian Trail Club members Lee Sheaffer and Bill Downes are two retirees who also saw the movie. They are planning a thru-hike on the Appalachian Trail in 2016. "A thru-hike has been a dream of mine for a long time," said Sheaffer in an email. To prepare for the hike, Sheaffer and Downes hike and backpack frequently, and test different equipment. Sheaffer wants to bring his dog along too, which is common on the trail.
At REI, an outdoors store, a hiking film such as "Wild," is giving the industry a boost. "We are all excited about the buzz generated for outdoor recreation, wild lands, and expeditionary hiking as a result of that great movie," said Matt Liddle at REI's Outdoor Programs and Outreach department.
In August 2015, the film adaptation of Bill Bryson's book, "A Walk in the Woods" is being released, starring Robert Redford as Bryson "rediscovering America on the Appalachian Trail," as noted on the cover. In the book, published in 1998, Bryson falls short of completing the whole trail.