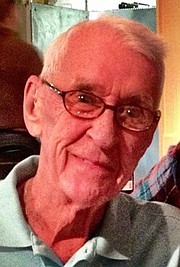 James Paul Rainey passed away peacefully on Dec. 31, 2014 at the age of 84. At the time of death, Jim was living in Great Falls, having recently moved there from Naples, Fla.
Born in Weirton, W. Va., Jim's family moved to Pennsylvania and Ohio where he graduated from Lakewood High School in 1948. Jim served four years in the US Navy from 1948-1953. Jim then joined IBM in Cleveland, Ohio in 1953 and worked tirelessly for IBM 33 years and during that time, moved to West Covina, Calif., Silvermine, Conn., Great Falls, England and back to Virginia.
Jim was a fun loving man who liked to dance (despite 2 left feet), throwing great clam-bakes, and hosting parties for his employees on a variety of occasions. He retired from IBM in 1986. A few years after retirement, he moved to Ft. Lauderdale where he spent many wonderful and happy years, giving generously of his time, talent and treasure volunteering in numerous worthwhile charities and causes.
He was predeceased by his wife Julia Ann (Joecken), infant son James John, parents Cecil and Winifred (Donnelly), brother Gerald Rainey and friend and companion Paul Berryman. He is survived by his devoted and loving children, son Jeffrey and his wife Sharon (Williams) and daughter Jennifer and her wife (Veronica Bellone), and beloved grandchildren Heather, Joseph and Stephen. Also surviving are many in-laws, nieces and nephews.
Along his life's journey, Jim made many friends scattered across the U.S. He was a true gentleman, genuinely loved and will be missed by all who had the pleasure and honor of knowing him.
A private memorial service will be held later in the spring and his cremated remains will be interred.
The family asks that expressions of condolences be given in Jim's memory to the charity of one's choice. If you wish to send condolences directly to the family, send them to Jeff Rainey, 1086 Pensive Lane, Great Falls, VA 22066 and Jennifer Rainey, 6585 Nicholas Blvd, #401, Naples, FL 34108.
Rest in peace Dad, Jim, Papa!