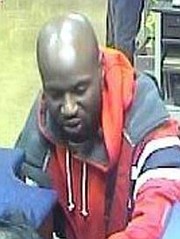 For the second time in two weeks, a supermarket bank in Reston was robbed in the late afternoon. Fairfax County Police report the PNC Bank inside the Giant at North Point Village Center was robbed at 5 p.m. on Monday, Dec. 29. This spike in winter bank robberies continues a trend which occurred last year, when banks including the BB&T on Chain Bridge Road in Oakton were robbed. The FBI reported 17 bank robberies occurred in Northern Virginia in December 2013. Thirteen suspects in the incidents were apprehended.
Northern Virginia Police Chiefs and Sheriffs Committee as well as regional robbery detectives received a briefing back in November from the FBI about bank robbery statistics for the region this time of year. They were advised December is typically the month where the most bank robberies occur. Although police have tired to keep watch on local banks, it has not always been possible to prevent bank robbery incidents.
THE SUSPECT at the Reston PNC Bank told a teller he had a weapon and got away with an undisclosed amount of money, Fairfax County Police spokesman Lucy Caldwell said. Police say the suspect is black, around 5 feet 11 inches tall, 170 pounds and unshaven. He wore a red Nike hoodie and the hood was on his head during the crime. This is the fourth bank robbery in Reston in the last several weeks. In recent years both Reston and Herndon have been able to maintain a peaceful environment, with most criminal activity consisting of "nuisance crimes" such as public intoxication, panhandling and public urination.
On Tuesday, Dec. 16, 2014, the SunTrust inside the Safeway at Hunters Woods Village Center was robbed. On Dec. 10, 2014, there was a robbery at the Wells Fargo Branch at Reston Town Center. On Nov. 26, 2014, the Presidential Bank at 1675 Reston Parkway was robbed. Police said a man entered the Presidential Bank on Wednesday about 2:46 p.m., threatened an employee and demanded money. The suspect took cash and fled. There were no injuries. The suspect was described as black, 20s, about 5 feet 9 inches tall.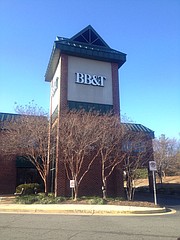 On Friday, Dec. 26, 2014, at close to 1:30 p.m., there was a bank robbery at the BB&T at 230 Herndon Parkway in Herndon. Police report a black male, approximately 5 feet 9 inches with a medium build, wearing a dark green jacket, faded blue jeans, light colored sneakers and a black knit hat entered the main lobby of the bank. The man implied he had weapon and demanded cash from a teller. After receiving an undisclosed amount of cash, police say he left the bank and fled toward Herndon Parkway. "We feel confident that the recent robbery from the BB&T in Herndon will eventually be solved," said Colonel Maggie A. DeBoard, Chief of Police Town of Herndon Police Department. "We have great investigative cooperation and support from both the FBI and the Fairfax County Police Department."
"Regarding the bank robbery, it's a shame that Herndon has been affected by what looks to be a seasonal increase in bank robberies," said Town of Herndon councilmember Grace Wolf. "I am grateful that no one was injured during this robbery and I know our police department will work with their local colleagues to solve the cases!"
THE FBI has teamed up with Fairfax County and Herndon police to counteract December bank robberies, sharing information with banks and the public about the trend, putting marked police cars outside banks. Punishment for bank robbery varies depending upon the value of money and property taken. If the amount taken is more than $100, the penalty is a fine and a maximum sentence is 10 years. In the event of a victim's death, the punishment is life in prison or death.
In a news release issued Dec. 14, 2014, the FBI listed 14 bank robberies since Oct. 31, 2014, they are investigating throughout Northern Virginia. The FBI is offering a reward of up to $5,000 for information that leads to the identification, arrest and conviction of any bank robber. Contact your local police department if you have any information to share about any of these robberies. The Herndon Police Department can be reached at 703-435-6846. The Fairfax County Police can be reached at 703-691-8888 or 1-866-411-TIPS.