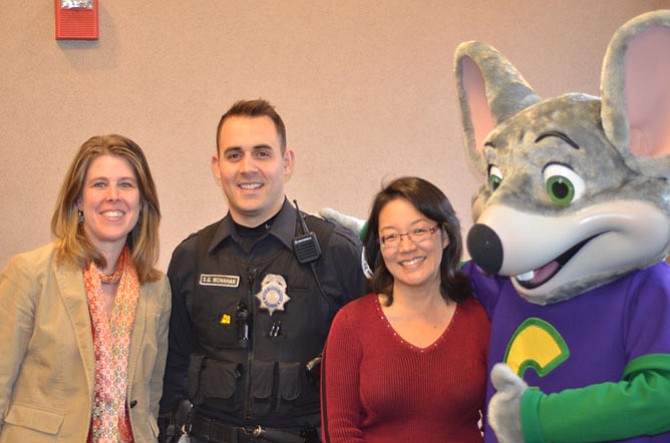 "I think this is a great example of what communities do, we help each other out," said Town of Herndon Vice Mayor Jennifer K. Baker. Baker was at Herndon Police Department on Saturday, Dec. 20 for the annual Cops & Kids outreach event. The Herndon Police Department's annual Cops & Kids event, sponsored by the Greater Herndon Fraternal Order of Police Lodge 64, helped provide 26 area children with gifts from Santa.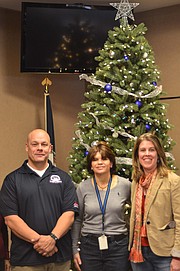 The event was attended by community residents and helped families have a merry Christmas. The event began with breakfast, followed by photos with Santa and Mrs. Claus who came delivering boxes of gifts. In the weeks before the event, Herndon police officers and members of the FOP met with children so they could write out their Christmas wish lists to Santa. Helping make the event possible were many volunteers. "It is a great successful event, every year it grows… we get tons of support from the community," said Herndon Police Officer Ronald Eicke Jr., president of the Herndon FOP.
The previous evening, volunteers including Herndon Mayor Lisa Merkel and town council members Sheila Olem, Dave Kirby and Grace Wolf helped prepare for the Saturday outreach event. "It is an opportunity for the council to lead by example," said Wolf, who also attended last year's event. "This is always a fun event for us," said Herndon Police Officer Si Ahmad, who helped wrap some of the gifts.
Participating families were provided with a food basket and a gift card to a local retailer. After the event, Santa and members of the Herndon FOP and volunteers went out with the Fairfax County Fire and Rescue Company to deliver toys and winter coats throughout the community to kids in lower income areas of Herndon. "It helps out families that need to be helped," said Herndon Police Officer Mike Berg.
Members of the Herndon Police Department have contributed back to the community while off duty through engagement with local organizations including the Herndon Optimist Club. The Herndon Police also offer an annual citizens police academy which includes classroom presentations and the opportunity to ride along with an officer on patrol. To be eligible participants must be 18 years of age or older and have no prior criminal record.
"Without everybody's contributions this would not have been a success," said Officer Eicke. The Cops & Kids Program operates with the help of community volunteers and sponsors, including the Herndon FOP Lodge 64, Herndon Rotary Club, Herndon Optimist Club, Sheryl McCurnin and the employees of CDWG, Peggy Walker, and Steven Fraser of TMMG. Other contributors included the Reston Home Depot, Northwest Federal Credit Union and Chuck E. Cheese. "This is a great event for the community," said Herndon resident Sheryl McCurnin. For more information on the Herndon Fraternal Order of Police Lodge 64, visit http://www.herndonfop.org/.