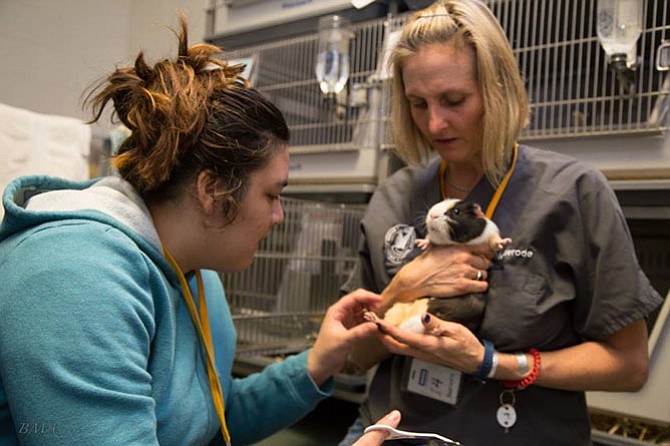 Since 2013, Fairfax County has been the largest jurisdiction in the United States with a placement rate of animals above 90 percent. Last year alone, nearly 2,500 animals were adopted, which is nearly double the adoptions just two years earlier.
With more than 4,500 animals coming through its doors in 2014, the shelter implements creative ways to find homes for the many homeless cats, dogs, guinea pigs, rabbits and other small animals. Here are just a few of the new ways the shelter can save more lives:
*"Fosters" help animals in a variety of ways, both long term and short term. There are 150 foster families who provide temporary housing to pets needing a break from the shelter. In addition to caring for puppies and kittens as well as animals recovering from surgery or illness, foster families can take an animal into their home for shorter time periods. Fosters take dogs on one-hour field trips or can take a dog home for the weekend, to give it a much-needed break from the stress of the shelter environment. Older cats sometimes wait many months to find a permanent home, so foster families take them home for 30 days of TLC while waiting.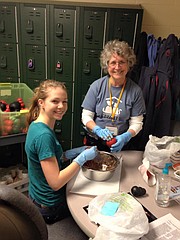 *The shelter has a robust social media presence. More than 20,000 people follow the shelter on Facebook, Instagram and Twitter. And more than half the shelter's adopters say they first saw their pet or the shelter itself on social media. In the past, a pet with a special medical need would have waited months for an adopter. Now that same pet usually finds a home within days of its pictures and story being shared on social media.
*Some 300 volunteers give daily love, enrichment and exercise to homeless pets. Dogs play in groups, go on off-site walks and get kennel breaks four or five times every day. Treat dispensing toys, stuffed and frozen Kong toys and other enrichment items keep shelter dogs busy throughout the day. Cats and small animals get to enjoy play time in one of the shelter's cat rooms every day and are constantly cared for by dedicated volunteers. All of this helps shelter pets be happy, healthy and ready to meet their new families.
Because the shelter has been so successful at placing animals, there are sometimes empty spaces on the adoption floor. Whenever there is space, they take in animals from under-resourced and overburdened shelters in D.C. and rural Virginia. In 2014, nearly 500 dogs and cats were transferred into the shelter, where they were adopted to loving homes.
In addition to adoptions, the shelter offers a variety of other activities, including classes for adults and kids, dog obedience training, Scout badge programs, birthday parties, a book club and a pet loss support group. To learn more about shelter programs or to view adoptable animals, visit www.fairfaxcounty.gov/animalshelter.
Want to know how to help your local shelter? In addition to volunteering, fostering and donating, all shelters in the area have Facebook pages. By following your local shelter, you can help spread the word about all the great pets waiting to meet their forever families.