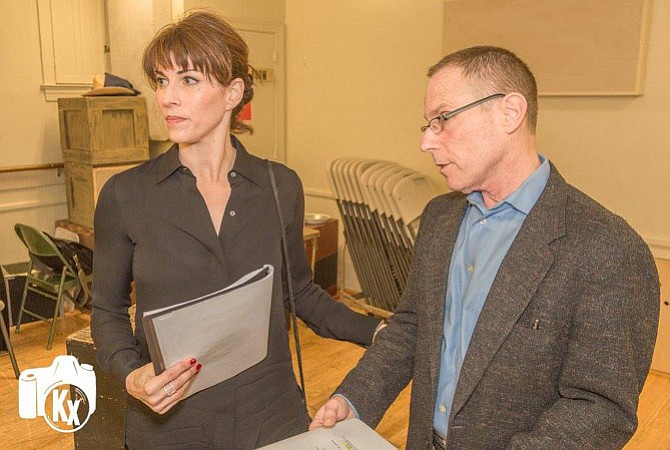 The Little Theatre of Alexandria is staging "God of Carnage" Feb. 28 to March 21. The Tony Award-winning play centers around a playground altercation between two boys which brings two sets of parents together for a meeting to resolve the matter.
At first all is well, but as the evening progresses, the rum flows, the gloves come off, and the night becomes a side-splitting free-for-all with the parents behaving badly.
"What happens next is that we find out that the parents are worse than the kids in dealing with each other," said Director Christopher Dykton.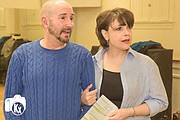 He said "God of Carnage" follows in the literary traditions of black comedy and satire. "I think this play gives a chance to look at how we behave at times in not the best way, while at the same time allowing us to laugh at ourselves. We know that underneath our social self is that Neanderthal waiting to pop out."
Co-producer Sharon Field has seen both the play and the movie and liked it very much. She had also worked with Christopher Dykton previously and proposed that Rance Willis consider producing with her. After seeing the movie and reading the script, he agreed.
"We knew the director and the quality of his work. We were fortunate to be able to get the best designers and production staff to assist in creating just the right setting for this production," she said. "Seeing rehearsals, we have gained a greater insight into the writing and the subtle characterizations brought out by the director and actors. We think the audiences will come away with a greater appreciation of the comedy and a significant appreciation for each of the characters."
Allison Block plays the role of Annette Raleigh, the reserved, tightly-wound wife of Alan and mother of Benjamin. "The subject matter is close to the heart (I am a mother of two school-age children), but very dark, so it often takes me places that I am reluctant to feel as a parent," she said. "The premise of the play is also deceptively simple and the challenges of sometimes playing a darker moment filled with oddly comic elements are everywhere in the script."
She said, "It's a moment in time. An evening when four people are not at their best, but are meeting for a noble purpose — for the sake of their children."
Jack Stein plays Alan Raleigh, a bulldog of a corporate lawyer who likes to be in control of his situations.
"As a social worker by profession, I'm pretty much the antithesis of Alan, particularly with respect to his ethics and attitudes. It's been an interesting challenge to tap into what makes him tick and find some humanity in the man."
Stein said, "Humans are unique beings but there's only a fine line separating us as such. We need to keep reminding ourselves of this uniqueness, especially when witnessing so many unfortunate savage atrocities going on in the world."
The Little Theater of Alexandria is staging "God of Carnage" Friday, Feb. 28-Saturday, March 21. Show times are Wednesdays through Saturdays at 8 p.m.; Sundays at 3 p.m. Tickets are $19-$22. For tickets, call 703-683-0496. The Little Theater of Alexandria is located at 600 Wolfe Street, Alexandria. Visit www.thelittletheatre.com.