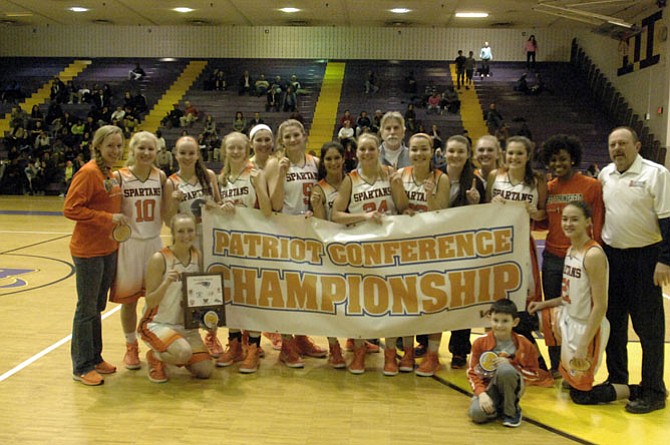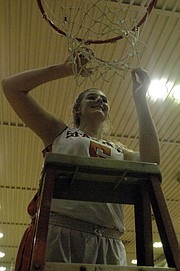 The West Springfield girls' basketball team won the Conference 7 championship Tuesday night, though you couldn't tell by looking at the players.
It was business as usual for the top-seed Spartans, who captured the program's fifth conference/district title in the last six years by beating No. 3 South County 55-37 in the conference tournament final at Lake Braddock Secondary School.
West Springfield led by 15 entering the fourth quarter, cruised to victory and celebrated with slightly more excitement than after coming out on top of a regular-season game in December.
West Springfield head coach Bill Gipson said the Spartans were "elated" about the conference title but came in expecting to win. Tuesday's victory improved their record to 21-2, including an undefeated mark against conference foes, and extended their win streak to 15 games. Several Spartans returned from last year's team that finished region runner-up and reached the state tournament.
"They know [regionals is] next," Gibson said. "You go undefeated in district, you feel a little good about that and you feel we should win [the conference tournament], no two ways about it. If we go out and play like we can play, we're going to win, but you've still got to go out and do it and that's what they did."
West Springfield junior guard Shelby Haynes said last season's conference title carried more excitement because the Spartans fell short in 2013.
"I think we're still looking forward to seeing how far we can get," Haynes said. "We got here last year and we hadn't won it [since 2012], so that year was really big for us and it was really hyped."
Haynes, a first-team all-conference selection, scored a team-high 15 points Tuesday night, and was named tournament MVP.
"She does everything," Gibson said. "She'll put points up, she rebounds, she plays defense. She's our stat girl --- she's going to do a bit of everything for you."
Junior guard Haley Blankinship, a second-team all-conference selection, finished with 11 points and junior forward Maura D'Anna, an all-conference first-teamer, added 10. Both were selected to the all-tournament team.
D'Anna scored all 10 of her points in the second half.
"She struggled early on and [got in] foul trouble and we sat her," Gibson said. "It's hard to sit a half and then [go] back in the game. She did a good job getting back in and wanting to do what she did. That's a good sign."
South County junior forward Taylor Nelson a scored 23 points. Nelson and teammate Samantha Leano were named to the all-tournament team.
West Springfield will host Centreville at 7 p.m. on Thursday, Feb. 26 in the opening round of the 6A North region tournament. South County will host Westfield.
More like this story