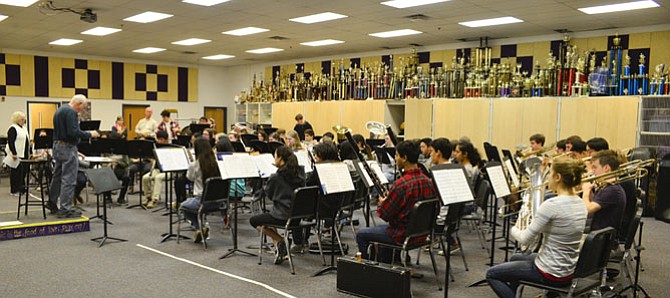 Photo Gallery
Lake Braddock Band Goes National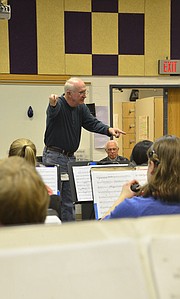 Click Photo for Flash
Lake Braddock Secondary School Symphonic Band has been invited to perform at the 2015 Music for All National Festival, presented by Yamaha, the nation's most prestigious festival for school instrumental music ensemble. The 24th annual Festival will take place in Indianapolis, March 12-14.
The Symphonic Band is under the direction of Michael C. Luley and was selected to perform by a panel of music educators by recorded audition.
Lake Braddock Secondary School Symphonic Band is one of 40 high school and middle school concert band and percussion ensembles from across the nation selected to perform at the 2015 Festival. They will perform in concert, be evaluated by renowned music educators and participate in master classes and special events.
On Friday, Jan. 30, Roy Holder conducted the Symphonic Band to help prepare them for the competition. Holder was Lake Braddock's Band Director for 20 years and currently lives in Tennessee where he travels to assist other bands. "It's like being a grandfather, I can play with the kids, and then give them back to their parents," said Holder. For over an hour Holder broke down the planned piece and drilled them on timing, dynamics, and phrasing.
Friday was a non-scheduled school day, yet the entire Lake Braddock band was attending this special all-day practice session. Mike Luley, Lake Braddock Band Director, assembled a group of accomplished musicians to assist the band members in refining their skills. This group of volunteers has decades of experience playing in the Army's Pershing Own Band, Air Force Band, and other military bands in the Washington, D.C. area. Many were students of Roy Holder and have a special connection to Lake Braddock Secondary School Symphonic Band.
After the practice session with Holder the various band "groups" met with their "volunteer" expert where they drilled deeper into timing, phrasing, and dynamics.
Lake Braddock Secondary High School has a reputation as one of the better symphonic bands in the United States. Their music room is filled to the rafters with awards over the years and that is due to the continuity over the past twenty-five years between the work of Holder and his many students who now help and teach at Lake Braddock.
--Terrance Moran