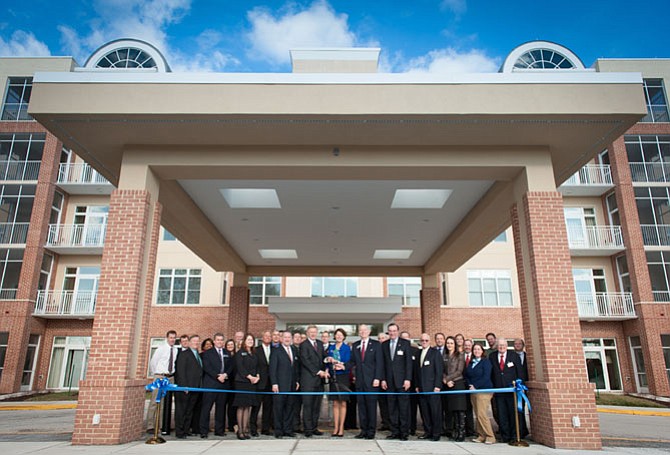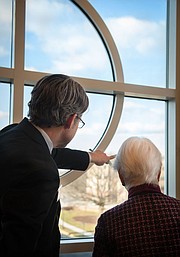 New senior living apartments in town will serve as home for 75 retired government workers.
After a decade of design and construction, the Navy Marine Coast Guard and Vinson Hall Retirement Community held a ribbon cutting ceremony for a new independent living apartment building and community center on Jan. 22.
"People used to tell me that they did not know anything about Vinson Hall Retirement Community or even where it was located – not any more," said VHRC Admiral Kathy Martin in a press release. "I believe we have very nicely placed ourselves on the map and with an excellent reputation. I attribute this to our many partners, the leadership of an excellent board, the professionalism of many talented staff members, and an awesome community of residents."
Every one of the 75 new apartments were reserved before the groundbreaking in May 2012. According to a press release, the building is a new home to "several retired generals, three former ambassadors, CIA officials, and a published author."
The building's construction didn't start until more than two years after the groundbreaking, in late 2014, but soon after that the building was completed and furnished.
"This was a major project in an established residential area. It raised concerns and created inconvenience for nearby neighbors impacted by the construction activity," said Dranesville Supervisor John Foust. "The residents on Park Road were especially impacted. The Franklin Park Citizens Association and Vinson Hall's residential neighbors deserve a special thank you for their input and support during the planning and approval phase and for exhibiting patience and cooperation during the long construction phase."
The five story building features apartments with nine-foot ceilings and screened-in porches.
"We tried to convey those values in the new structures," said Senior Vice President of architectural firm SFCS Inc. Drew H. Kepley. "We also studied Carl Vinson, VH's namesake, and VH's relationship with the U.S. Navy, Marines and other service branches and relate the structures in some way. For instance, the round windows make reference to the naval connections."
The four story high community center stands in the center of the VHRC "campus," and features a full-service bistro, 12 suites, a beauty salon and a grand ballroom, among other amenities.
The buildings are currently undergoing a process to become LEED certified.
Because of the thoughtful planning that went into the project, it is a beautiful addition to our community," said Foust. "There are many examples of how Admiral Martin and the project team worked with the community to make Vinson Hall the best neighbor it could be. Some of the significant changes that were agreed to included increasing the number of existing trees that were preserved, improving landscaping buffers with beautiful new plantings and improving stormwater management."