ArtSpace Herndon is inviting the public to the New Year's Eve celebrations for children and adults on Dec. 31.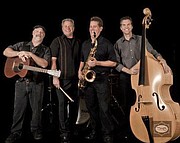 From 2-4 p.m., parents will celebrate the New Year with their children ages 5 to 12 at the Children's Crafts and Dance Workshop led by one of the region's most celebrated youth art and dance instructors - Acoatzin Torres. This two--hour program includes a fun scarf design crafts workshop along with Acoatzin's popular Bollywood, Latin and American folkloric dance lessons. The cost is only $5 per child and includes complimentary cocoa and snacks. Children should wear old clothes because the craft activity involves fabric dyes. Children must be accompanied by an adult.
For the adults, ArtSpace Herndon is happy to announce the return of Herbie D and the Dangermen - back by popular demand, for the annual New Year's Eve Celebration. Dance the night away to traditional and New Orleans jump blues while enjoying complimentary hors d'oeuvres, soft drinks and a champagne toast at midnight. The donations for wine and beer will be accepted. The celebration is from 10 p.m.-12:30 a.m. and tickets are only $25/person.
Both events are expected to sell out fast, so be sure to reserve your seats early by visiting ArtSpaceHerndon.org or calling 703-956-6590.