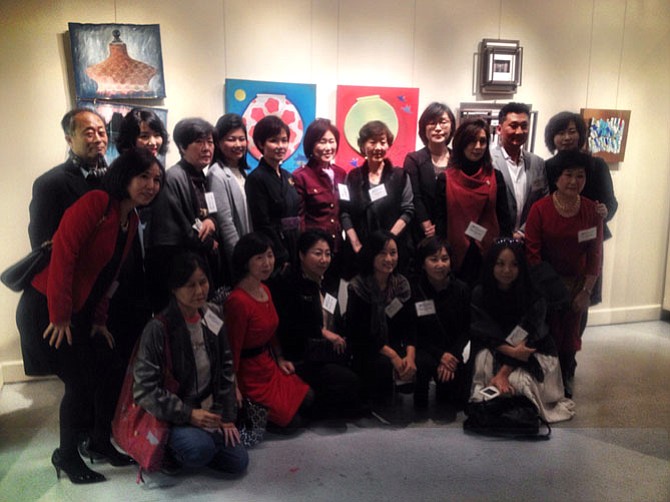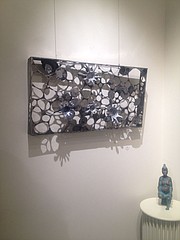 Saturday, Dec. 12 there was a reception at ArtSpace Herndon for the Korean Pop Art in America exhibit. The show displays selected works from 32 artists in the Han-Mee Artists Association of Greater Washington (HMAA) Artists. The artists in the exhibit include special guest artists Kyungjoo Park, Robert Yi, Chris Mona, and Franc Rosario. The exhibit is at ArtSpace Herndon from Dec. 8 until Jan. 10, 2016.
Following a presentation last year at Lorton Workhouse Arts Center, HMAA was able to arrange for a presentation at ArtSpace Herndon. Many of the HMAA artists are residents of Northern Virginia, D.C., and Maryland. During the evening reception on Saturday, guest curator and art historian Dr. Jungsil Lee gave a short talk on Korean Pop Art. K-Pop and Bhangra dances were performed by Thomas Jefferson High School students.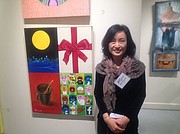 Han-Mee artists actively engage with a wide range of subjects related to the reality of contemporary popular culture in the view of postmodern. They embrace subjects such as consumer goods, cartoon characters, fashion, sci-fi films, pop music, and cyber worlds that make up the present popular culture. This multifaceted nature of Korean contemporary Pop Art has not yet been substantially examined and exhibited, especially on the ground of American popular culture.
One of the attending artists included former Herndon resident Woon Yong Yeo who explained that in the early period of their immigration to the United States, spirited Korean artists gathered to create art in the face of their challenging immigrant lives. They developed HMAA as one of the most organized and prolific artists groups in the D.C. area. Yeo has a painting in the exhibit titled "Tales Of A City," which features a coffee mug, emoticons, a gift wrapped box, and a moonlit city scene. The coffee cup is a reference to a booming coffee culture in South Korea, and the gift wrapped box points out a trend in plastic surgery. "I wanted to point out Korea's situation, beauty is a concern by women and men," said Yeo.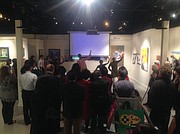 Some of the art fuses cutting-edge technology and popular trends, reflecting the disruptive, self-contradictory clashes. A painting by Richard Yi titled "Buddhalicious" shows a young monk surrounded by icons of popular name brands. Lenticular printings by Kyungjoo Park show a divided psyche of K-pop, ancient Confucian values and materialism.
Upcoming Events:
Thursday, Dec. 31, ArtSpace Herndon will host its New Year's Eve Gala with the return of Herbie D and the Dangermen, back by popular demand. Herbie D and the Dangermen is an acoustic blues band from the Tidewater region of Virginia. The band plays a blend of traditional and jump blues with an upbeat. Music show is 10 p.m.-12:20 a.m. and is $25 per ticket.
Tuesday, Jan. 12, ArtSpace Herndon will host a Design and Wine Bohemian Bracelets class with Karen Mullarkey. Each boho-style bracelet is made from materials like Indian sari fiber, assorted yarns and fibers, beads, crystals and wire. Participant can make several bracelets to take home, so it will be easy to complement any outfit. Karen Mullarkey is a mixed-media artist and art instructor at Reston Community Center, Lake Anne. Design and Wine events are from 7 to 9 p.m and each event is $30 per person. The fee covers all supplies and two glasses of wine. Each event is limited to 25 participants.
Another upcoming Herndon art event is the Jan. 16 living history musical celebrating the legacy of Rev. Dr. Martin Luther King, Jr. titled "Only Light Can Do That!" Stars actor and singer Hasani Allen (NextStop Theatre's "Kiss Me Kate") as Dr. King, and features music, songs and testimonies from the period.

Do not miss an uplifting evening of powerful reflections inspired by those who marched alongside Dr. Martin Luther King, Jr. The event has special appearances by Candice Bostwick, Sumayyah Abdullah, Martina Green, Call to Harmony Men's Choir, and Treble Clefs Ensemble. This event has one show only on Jan. 16, 2016, 4-5 p.m. at Floris United Methodist Church at 13600 Frying Pan Rd, Herndon (doors open at 3:30). Tickets are priced $20 adults; $15 seniors; $10 students 12+; Children under 12 free.
ArtSpace Herndon is in need of gallery docents, especially on the weekends. If you have thought about volunteering and enjoy being around the arts, please contact ArtSpace Herndon at 703-956-6590 or by email at volunteer@artspaceherndon.com.