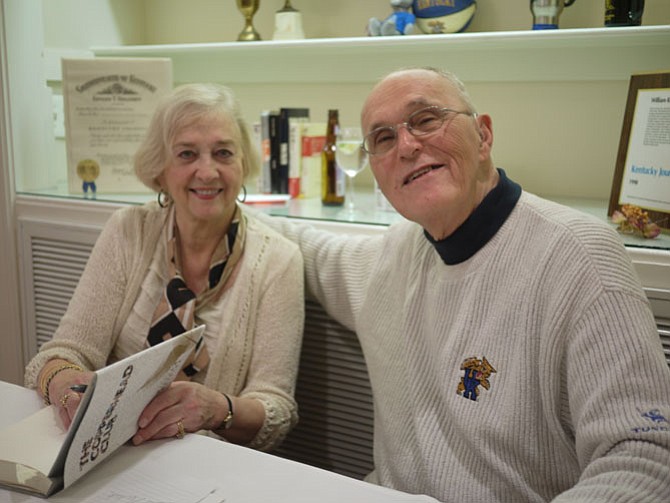 William ("Bill") Neikirk says he has always wanted to write a novel, ever since he was an 8-year-old. Neikirk came to Washington from Kentucky as a young journalist in the early '70s. He was working for the Associated Press in Kentucky and then interviewed for a position in their Washington Bureau. The good news was he got the job, and the bad news was they offered him a job covering economics rather than the political beat he had wanted; his disappointment was evident. As he grimaced, his editor told him he should just do his best for a year, and then they would see if something else opened up. It was 1971. Nixon had initiated a series of wage/price controls that became a major story, particularly after the abandonment of the Gold Standard in 1973. Neikirk's career as a journalist took off, and not long after he joined the Chicago Tribune as their economics reporter in the Washington Bureau.
Neikirk, who was known as "Bill Bob" growing up in Kentucky, covered stories all over the world before retiring in 2008 because of non-Hodgkin's lymphoma. When he received the Estill County Hall of Honor award in 2001, he noted that because reporting can take a person so many places it is difficult to single out the most memorable event covered. A few of the standouts were: a civil rights march in Louisiana in 1969; the trial covering the murder of three civil rights workers in Mississippi; the 1968 Democratic convention; the anti-war marches in Washington; Henry Kissinger's announcement of the U.S. withdrawal from Vietnam; the courage of Anwar Sadat in Egypt; the despair of the Shah of Iran just before the revolution, the opening up of China in Beijing in 1978; and the WW II veterans visiting the Normandy Cemetery where their friends were buried.
At the Chicago Tribune, Neikirk served as economics correspondent, White House correspondent, assistant managing editor for financial news in Chicago, senior writer and chief Washington correspondent. He has received over 50 journalism awards including winner of the Chicago Tribune's Beck award, the Loeb, John Hancock, University of Missouri and Champion Media Business Writing Awards, runner up for the Pulitzer Prize; the Merriman Smith Award for presidential coverage; runner up in the Raymond Clapper and Nover Awards; and named as one of the top 100 financial journalists of the 20th century. He was elected to the Kentucky Journalism Hall of Fame in 1998. He is a member of the Gridiron Club and the National Press Club, and wrote a nationally syndicated column on economics. He has authored two nonfiction books, "Work Revolution" (1980) and "Volcker, Portrait of a Money Man" (1987).
And now, a novel.
"The Copperhead Club" is a story of terrorism, scandal, and snakes, fictional morsels in a stew full of Washington's corridors of power and Kentucky's backwoods, where Neikirk grew up. His book's characters are socialites, lawyers, economists, Arlington County residents, U.S. presidents, political consultants, Kentucky police officers, FBI directors, waitresses, U.S. senators, and gun dealers. His wife of 55 years, Ruth, says he has kept journals and notebooks all his life, and that Neikirk began writing the book on yellow legal pads while riding to work on the metro in the '90s. He stopped writing after 9-11. In 2009 his wife was recovering from knee surgery and asked him about the book. He told her it was a piece of trash, not worthy for anyone to read; but he handed over a stack of pages to read. She was hooked after the first page and read to the end — it may have been the first 10 chapters. She asked Neikirk what was going to happen next. He didn't know.
Much to her delight the novel was finished in 2010, but Neikirk remained unwilling to submit it to a publisher. In 2015, Neikirk's wife got him to agree to publish it, and now the book is finally out. There is a lot in the book that surprised her, not the least of which is her husband's ability to tell a story from a woman's point of view. But she is sure many of the characters come from Neikirk's observations as he went about life in Washington.
The book launch took place at the National Press Club and the Hendry House, on Nov. 16 and 18 respectively. Both receptions were attended by Washingtonians, Arlingtonians, The Yorktown Splash Girls, and a few out-of-town visitors.
The Neikirks are currently planning a trip to Kentucky to promote the novel, which is available on Amazon.com. For more information, see www.williamneikirk.com.