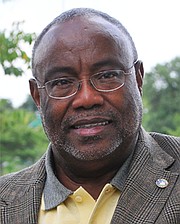 Welcome to Alexandria! On behalf of my colleagues on City Council, I'd like to extend a warm welcome and thank you for choosing this historic community as your new home.
During its 266-year history, Alexandria was a tobacco trading post; one of the 10 busiest ports in America; a part of the District of Columbia; home to both the nation's largest slave trading firm and a large community of freed blacks; a Civil War supply center for Union troops; and a street-car suburb for federal workers. Today, Alexandria is a growing, urban community with an unparalleled quality of life. We're a vibrant, diverse city of nearly 150,000 people with a small-town feel, but just minutes from the bustle of our nation's capital.

There is so much to see and do. Our parks and green spaces are a haven for nature lovers, walkers and bicyclists, and we're a transit-oriented community, offering many options for getting around town and beyond. We're a destination for foodies, a haven for shoppers, and a place where the arts thrive. Alexandria is an Eco-City, committed to protecting and sustaining our natural resources. We're a great place for young people and a caring community.
Alexandria is also a hub of innovation, home to national, regional, and local businesses, tech startups, creative firms, trade associations and nonprofits, and the United States Patent and Trademark Office. In 2017, we will welcome the National Science Foundation and the Transportation Security Administration to their new headquarters in Alexandria. It is truly an exciting time to be here!
In Alexandria, we have a strong tradition of community, government, and organizations working together to help shape our city's future and reach out to our most vulnerable residents. We hope you will consider the many options available: serving on a board or commission, attending City Council meetings, mentoring children, or taking advantage of other volunteer opportunities through the city or through its many nonprofit and charitable organizations. Please visit alexandriava.gov/Boards or alexandriava.gov/Volunteer for more information.
Finally, as you settle into your new home, there are bound to be questions. If you need any information about Alexandria's government or services, please contact our customer information service, Call.Click.Connect., at 703-746-HELP (4357) during normal business hours. Call.Click.Connect. may also be accessed 24 hours a day, seven days a week, through the City's website at alexandriava.gov.