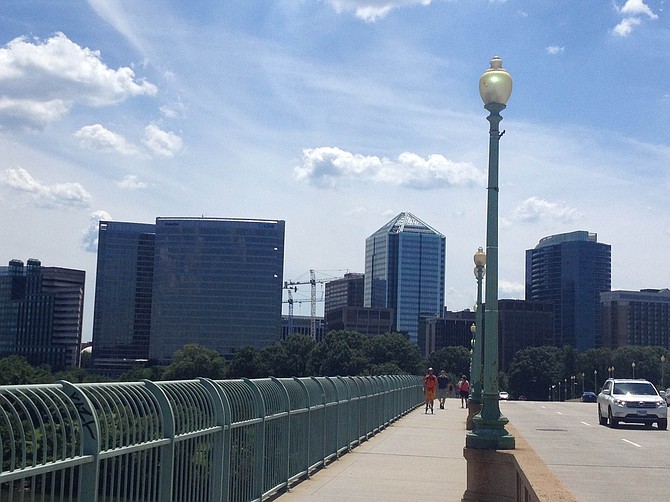 The Hidden Gems of Crystal City
Despite the colorful banners and lively street life, Crystal City's a shell of its former economic powerhouse. While Arlington overall faces a high office vacancy of 20 percent, at 28.7 percent, Crystal City is hit the worst. But in the middle of this devastation, something new has sprung up. Crystal City is becoming the leading face of Arlington's more youth-oriented shift. Young professionals are moving into the neighborhood to commute to jobs in D.C., and the county is beginning to recognize, even rely on, this demographic as the future of the neighborhood.
"Crystal City is also undergoing reinvention and transition," said Alex Iams, assistant director of Arlington Economic Development. "This area was most impacted by BRAC, which took 13,000 jobs."
According to Iams, Crystal City faces the added difficulty that many of these former government or contractor offices are unsuitable for newer tenants. While Crystal City has seen the addition of new tech companies, like 1776 and Eastern Foundry, it has hardly put a dent in the office vacancy numbers, which continue to rise.
"With the rise of teleworking, big office spaces aren't as necessary as they once were," said Iams. "You can feel that transition most acutely in Crystal City. [The county is] working on transitioning office buildings to other spaces, including residential."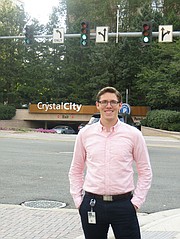 According to Iams, the new residences, some in converted office space, is part of what's bringing younger populations to the area.
"Crystal City is also good landing spot for people who are new to the area because of it's access to transportation amenities," said Iams. "It's an easy commute into D.C., it's right next to the airport. The new stores in adjacent Pentagon City will be [a major source of] employment."
At 23, Jesse Fonkert stands out from most of Arlington's Civic Association leadership. Fonkert is the membership liaison for the Crystal City Civic Association, and in many ways is emblematic of the changes happening in the neighborhood. Fonkert moved to Crystal City in January from rural South Dakota. He said that he and his girlfriend were looking for a safe place for their first real urban experience, but close enough to the city for his job working in the Federal government. It didn't hurt that Virginia generally has lower taxes than D.C. or Maryland. Fonkert also appreciated that Crystal City was equidistant from D.C. and Old Town Alexandria.
Fonkert is quickly learning that Crystal City is very different from South Dakota. At the same time, the two areas share surprising similarities. Back in South Dakota, Fonkert said that everyone in an area gets to know each through years of living together. In Crystal City, most residents are renters who typically stay for a year or two. But Fonkert also noted that there's a certain level of community in that.
Fonkert praised the Crystal City Business Improvement DIstrict for its efforts in making these temporary residents feel at home. His personal favorite event is the "Brew, Blues, and Barks", a dog-friendly event with beer and live music hosted every Wednesday in June.
But Fonkert says Crystal City faces its share of challenges. The majority of complaints center around the area's transportation. Fonkert says the local streets can be extremely confusing and progress on road construction seems almost non-existent. Instead of addressing these issues, Fonkert says the county focuses more on adding more bus transit and forcing Crystal City to become more connected with the rest of Arlington.
"Honestly, most of us just use the metro to get into D.C.," said Fonkert, "We don't use the buses to get around Arlington."
Fonkert said Crystal City's coolest feature is the tunnels that run under the neighborhood. The pedestrian tunnels run underneath the entire neighborhood and connect to both the metro and many of the storefronts. Fonkert said the tunnels are a relief from both freezing temperatures and heat waves. Fonkert also recommended most newcomers to Crystal City visit the ethnic restaurants and other entertainment venues on 23rd Street.
"There's something there for everyone," Fonkert said, in particular referencing his love of "Kabob Palace", calling it the best kabobs in all of Arlington.
With it's millennial oriented lifestyle and greater-D.C. area access, Fonkert says he thinks he made the right decision about where to move.
"For newcomers to the area," said Fonkert, "Crystal City is a great place to start."
The Ballston Tightrope
After losing one of its largest economic drivers, business and county leadership remain optimistic about the neighborhood's chances of recovery. Many of these hopes pin on the impending transformation of the Ballston Common Mall.
"Ballston is predicated on balance between commercial and residential," said Iams. "It has a stability and a diversity of uses that give it a balance."
For Tina Leone, the CEO of the Ballston Business Improvement District, that balance is the result of careful planning for decades.
"Ballston is a 50-50 mix of residential and commercial," said Leone. "It's the community Arlington has been trying to achieve since it created the sector plan in 1980."
But according to Leone, it's time to give that sector plan a review. There have been substantial changes in Ballston over recent years, like the April demolition of the "Blue Goose" building at the corner of Fairfax Drive and N. Glebe Road. The building will be replaced by a nine-story office building and a 15-story residential building. One of the biggest hits Ballston has suffered, though, is the loss of the National Science Foundation (NSF). With the departure of the NSF to a new home in Alexandria, Ballston will not only be losing 2,400 employees, but over 200,000 visitors to the site every year. Construction continues at the new headquarters in Alexandria, and the NSF is expected to move into its new home in 2017.
"We've got that vacancy to absorb," said Leone. "In Ballston, the strategy needs to be not chasing after [government] tenants but focus on a commercial base. These spaces aren't being backfilled with more government tenants, it's more private companies."
After the NSF leaves, only 8 percent of the commercial space in Ballston will be leased by the government. As bad for Ballston as the loss is though, Iams says that the situation isn't as bad as it could have been.
"Ballston has the advantage over other parts of Arlington in that it never had as much federal tenancy and it's more diversified," said Iams.
Another visible loss in Ballston has been the slow decline of the Ballston Common Mall. In June, the Arlington County Board announced that it would be looking into a public-private partnership with mall owner Forest City Enterprises for a $300 million redevelopment. The new Ballston Mall would have a more open-air design and would include 365,000 square feet of retail space as well as 400 new residential units.
"[The thing] we're most excited about is the Ballston Mall redesign," said Leone. "The Mall design is set to be approved in November .… The mall redevelopment should help spur more development and bring people back into that vacancy."
For new residents to Arlington, Iams said Ballston is ideal for it's variety of local jobs available.
"There's an enormous opportunity there," said Iams. "It's really a complete community."
Beyond commercial opportunities, Leone said that one of her favorite spots in Ballston visitors may not know about is the small "ellipse park," a courtyard behind the National Rural Electric Cooperative Association.
"It's a beautiful little spot," Leone said. "There's a fountain back there and sometimes, when you sit there, you really don't feel like you're in an urban environment."
'Realize Rosslyn'
Like other neighborhoods in Arlington, Rosslyn is seeing a greater push towards retail and commercial spaces rather than the large government jobs that dominated the local economy before Base Realignment and Closure hit in 2005. A new Target is expected to open in Rosslyn by the end of 2015, and Iams said the county's "Realize Rosslyn" plan has helped push for more shopping and dining options in the area.
However, some long-time residents believe the county is selling them out for a chance at greater development in the area. Paul Derby, president of the North Rosslyn Civic Association, said the view out the window from his home has changed dramatically over the last few years.
"When I first moved here, it was a lot of low rise garden apartments," said Derby. "Now, those four or five story buildings are being replaced by a very tall skyline."
Derby said the battle for local residents is keeping the new development in Rosslyn between the Wilson and Key boulevards.
"We're getting pressure from Arlington County, under the drive for affordable housing, to put up larger, high density buildings in residential areas," said Derby. "That's been the biggest debate here. The community is very much in support of affordable housing, but not at the expense of replacing a low rise neighborhood for six to eight story buildings."
There are 1,745 residential units in North Rosslyn. With an average of two people per household, there's an average of 3,500 people living in North Rosslyn. Derby says he isn't opposed to development, but wants to see that process slowed to allow the local occupancy time to catch up to the new retail expansion.
Derby says this kind of frustration, in North Rosslyn and other neighborhoods, was a large part of independent John Vihstadt's reelection in the 2014 general election to the otherwise uniformly Democratic County Board.
"Vihstadt's election was a show of frustration at the massive concessions and things that are happening for the developers at the cost of voters," said Derby.
Mary-Claire Burick, president of the Rosslyn Business Improvement District, said that the key to developing in Rosslyn is keeping both the residents and the day workers happy. Burick said the Rosslyn Sector Plan, approved by the County Board in July, calls for streetscape changes, regional wifi, and cosmetic adjustments to support new retail in Rosslyn.
But if the added commercial space is one of Rosslyn's largest conflicts, Derby also acknowledged that the present lack of retail can be a source of frustration as well.
"Within 15 to 20 minutes, you can walk to Courthouse, Clarendon, or Georgetown," said Derby. "There are huge numbers of retail establishments and places to eat. That's good and bad. The bad is that retail doesn't place itself in Rosslyn, there's a real dearth of that here."
According to Iams, Rosslyn also struggles to bring in commercial clients to fill the vacant office space because the majority of those offices were built and designed with the Department of Defense in mind.
"To the extent that that space can be adapted to the new norms of office tenancy and new amenities, it can continue to do well, but there's a strong need for reinvestment in those properties," said Iams.
But Iams said there's plenty of opportunities for newcomers either looking to commute into D.C. or find work locally.
"You could easily make a compact, convenient life in Rosslyn working for the government with easy access to D.C.'s federal core," said Iams. But [Rosslyn] also has cool opportunities for creative types: Politico, WJLA. There are also some large professional services shops, like Corporate Executive Board and Deloit, based out of Rosslyn."
For commuting into D.C., Derby argues there's no better place than Rosslyn.
"If you live in Rosslyn, it's one of the few places where you have walking access to three metro lines: blue, orange, and silver," said Derby. "You can catch three different metro lines from home. And there's airport access at National. It's even easy to get to BWI."
While one of Rosslyn's greatest strengths is its status as a transportation hub, Derby says some of those transit options are frustratingly underdeveloped by the county.
"[Rosslyn] is the confluence of a lot of biking and hiking trail. Right next to the Mount Vernon trail is Gateway Park, which is another sore spot in the community," said Derby. "Maintenance is minimized, fountains are turned off, and restrooms are closed. The residential retail tax has gone up a huge amount … but the county doesn't seem to reinvest. This is a prime area."
Burick said that on Sept. 12, a relaunch event is planned for Gateway Park, which includes changing the two disused fountains into a sand-play area. Burick said the park has recently become popular as a fitness-related spot. According to Burick, fitness has become a major recreational theme in Rosslyn. The Marine Corp Marathon, the fourth largest marathon in the country, ends at the Iwo Jima memorial in the heart of Rosslyn.
Derby said Rosslyn is also part of D.C.'s most underrated monuments and history. While Roosevelt Island is technically part of D.C., it can only be accessed via Rosslyn.
"If you're a political history junkie, you could always go up the sidewalk from Gold's Gym and stand in the parking place where Deepthroat brought down the Nixon administration," said Derby. In 2014 the Arlington County Board voted to demolish the site. Demolition is set to begin no sooner than January 2017. "There's also the hidden gem of a park behind the Artisphere. Freedom park has some beautiful views of D.C. there from above Wilson Boulevard."