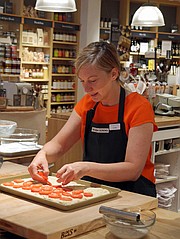 The oven is warming to 450 degrees. Lisa Parkinson has lined up the unbleached flour, yeast and milk beside the freshly chopped rosemary, basil and thyme. She is about to begin today's Focaccia Making with Oil and Vinegar Tasting Technique class at Williams-Sonoma on S. Washington Street. The theme of the month is Italian, and a couple of weeks ago she taught the class on Cooking with Tomatoes. She said she bought a variety of heirloom tomatoes and "we tasted them. Some are really tart and others are super sweet."
These culinary events are free with adult classes on Sundays and junior chef classes on Saturdays. "I teach a lot of the junior chef classes, too. We get a good group," she said. The Culinary Events program is a team effort with other instructors and is coordinated by an assistant manager with a professional chef background who oversees the culinary program.
Parkinson has been teaching cooking technique classes at Williams-Sonoma for about a year and a half. "I'm actually moonlighting since I have a regular job with a local defense company. But I love cooking. I don't have any formal training, just 20 years of cooking," she said.
Her inspiration was her mother who was a "fabulous cook, a stay-at-home mom. Every night we would come home from school to a home- cooked meal." Parkinson remembers those hush puppies and the shredded beef over noodles. "Home cooking has become a lost art I guess you could say."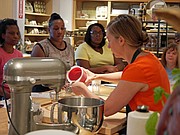 Parkinson's specialty is the Vitamix and the juicer. She teaches a Vitamix class about once a quarter where she produces hot soups, sorbets, smoothies with fruit, yogurt, baby spinach and flax seed and "an amazing tofu chocolate mousse. Everyone wanted that recipe."
Parkinson also taught a burger class "which was really fun because I'm a vegetarian; we made mini-sliders with a good recipe." Often at home on Sunday she will cook a couple of recipes for the week ahead. Her current favorite is a "fun veggie mix" with roasted sweet potatoes, sweet corn, black beans, cilantro, scallions and spices. "I can heat up tortillas, throw in this mix and some cheese or cook up some rice to mix with it or throw in some curry sauce to give it an Indian taste."
The front door opens. "Welcome you guys — good to see you again." She explains, "We have a lot of regulars."
A couple comes in and takes a seat in front of the wooden counter followed by two friends who have also been there before. Soon 12 are crowded around the demonstration area reading today's recipe. "Today we're going to make focaccia and then taste it with different olive oils. I've always been a little intimidated by bread," Parkinson said. "But I'm going to show you how to make the dough, and not to be scared about it."
She says that making bread is an art: "You want a crusty outside and a light and airy crumb inside. The more you practice, the more you get used to it." She points to a pan of dough that she started earlier in the day and is slowly rising. "I have to confess I'm a little bit addicted to this thing that is growing." She pulls the dough to the edge of the pan and will dimple it with her fingers to hold pools of olive oil. "If the dough pulls back, it just doesn't want to be touched so set it aside for a while."
As Parkinson begins a new batch of dough from scratch she cautions, "You have to be careful you don't kill the yeast." Tiny bubbles rise in the bowl as she adds warm water to the granules. She slips a thermometer into the bowl to test the temperature of the water. "90 degrees, not quite hot enough. I'm using unbleached flour today but you can use bleached flour if you want whiter focaccia or cake flour. And if you want to venture out, the Italians add potatoes and it makes the focaccia more yellow." Generally a focaccia is different than a pizza because there is more yeast in the dough and you only add one topping. "But if you're feeding a crowd, you could just add whatever toppings you want." She says you can add herbs to the dough or sprinkle them on top and, "I've even heard of dessert focaccias — you could put peaches on top." She says you can experiment, "That's what it is all about."