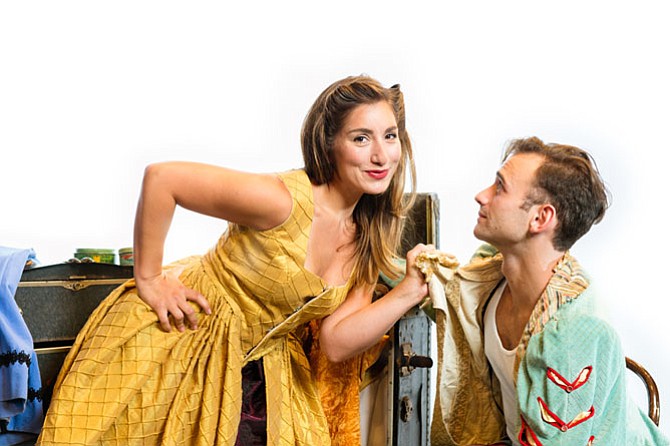 Where and When
"Kiss Me Kate" at NextStop Theatre, 269 Sunset Park Drive, Sunset Business Park on Spring Street, Herndon.
Performances Aug. 20-Sept. 12.
Thursdays at 7:30 p.m.
Fridays at 8 p.m.
Saturdays at 8 p.m.
Sundays at 2 p.m.
Sunday, Aug. 30 at 2 and 7 p.m.
Saturday, Sept. 5 and Sept. 12 at 2 and 8 p.m.
Tickets: $40
Call 866-811-4111 or visit: http://www.nextst...">www.nextstoptheat...
No need to brush up on your Shakespeare to relish NextStop Theatre's season opening production, "Kiss Me Kate." With music and lyrics by the legendary Cole Porter, the show is a Tony Award-winning sophisticated, comic twist based upon Shakespeare's battle of the sexes, "Taming of the Shrew."

In Porter's musical "Kiss Me Kate," the sparks fly as verbal battles, both sung and spoken, between two couples take place within a show-within-a show on opening night. Fictional on-stage lives are complicated by off-stage relationships and lovers' quarrels. There are a clashing egotist director and a diva who were once married to each other. There is also a younger ardent couple; she's an ingénue and he a not-so-successful gambler.
The production is powered by a score of about 20 numbers with titles such as "So in Love Am I," "Too Darn Hot" and "Another Op'nin', Another Show" along with "Always True to You" among others. "Kiss Me Kate" ran for nearly 1,100 performances on Broadway winning five Tonys including Best Musical. Bella and Samuel Spewack wrote the book.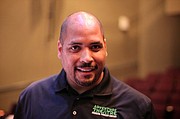 "Kiss Me Kate" is directed by Michael Bobbitt. Bobbitt is artistic director of the Helen Hayes Award recipient Adventure Theatre MTC. In an interview, Bobbitt spoke of his excitement bringing the show to NextStop audiences.

For Bobbitt, the timeless, witty show is "ultimately a musical about love for couples with traumatized relationship, all surrounded by theater backstage issues." When asked about his staging, Bobbitt indicated he plans "to open and use the NextStop space to full advantage bringing the audience an immersive experience."
Veteran NextStop music director Steve Przybylski will pilot a four member jazz band. Rachel Leigh Dolan is the choreographer. She has received a Helen Hayes Award Nominee for choreography and teaches at Northern Virginia's Metropolitan School of the Arts.
"Kiss Me Kate" lead roles are played by Paul Scanlan, Karen Vincent, Stephen Russell Murray and Emily Levey. The multiple Helen Hayes nominated Paul Scanlan is well-known for his work at Signature Theatre. "I am very excited to do this show," said Scanlan. "It is a fun show with lots of delightful innuendo. And the music is simply beautiful and so catchy."
With lyrics like "why can't you just behave" and "strange dear, but true dear, when I'm close to you, dear, the stars fill the sky," get ready to fly into musical bliss with NextStop's "Kiss Me Kate."