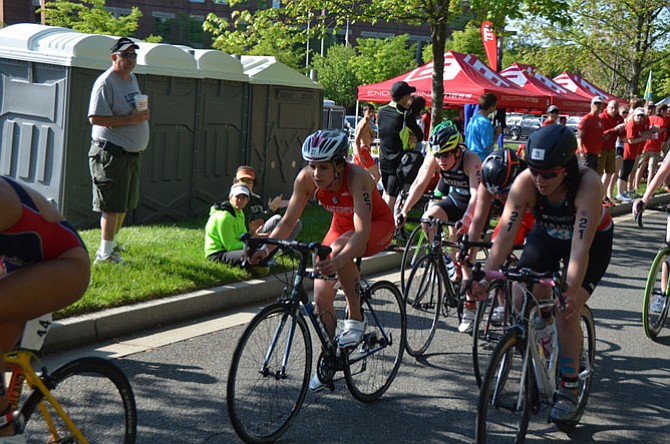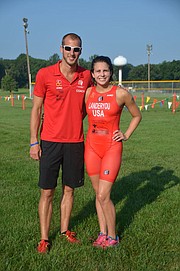 Imagine competing in a 750 meter open water swim, then a 12-mile bike and lastly a three-mile run. Exhausted yet? Emily Landeryou, a 15-year-old rising junior at South Lakes High School and elite triathlete can compete in such a race with ease.
Landeryou is a member of the "Junior Elite Team" at Endorphin Fitness Fairfax. The club participates in the USA Triathlon Junior Elite Circuit. In the circuit there are four races in Richmond, Wisconsin, Washington and Iowa. In these races, the top 17 competitors qualify for the National Competition. These competitions are unique because drafting is allowed in both the swim and the bike portion of the race. "In no other local tri can you do that, you must be three feet apart from people on the bike" Landeryou said. "That's what makes them so special. It's a shorter course that you do multiple times."
"The start of the swim is the scariest part. There are 75 girls in every race. That is a lot, because we start really close to each other; there are 75 girls in a line at one time. This makes it very hard to get ahead… people even swam over me in Richmond!" Landeryou said laughing. "The biking isn't as aggressive, we actually work together. You pull for a certain amount of time and then you drop back. You are so close that if one person crashes, everyone crashes. It makes it go so much faster. We've hit almost 30 miles per hour in some races. The pack mentality changes everything.
I've only done two races, the second one I did was in Wisconsin. There I got ninth overall, which qualified me for Nationals."
LANDERYOU only began competing in triathlons in March, making her achievements all the more impressive. This is Landeryou's first year and she has already qualified for Nationals.
While Landeryou is a natural athlete, she also must work seriously to compete at such an elite level. The training is intense, and competitors are often responsible to keep track of their own workouts and progress. "We have an app called Training Peaks. You can't do all the practices with your coach, so today I had to do an hour and a half swim, an hour and fifteen minute race prep, which is a bike and run."
Also being a top tier swimmer, Emily attends practices for her swim club in addition to her own personal training. "It's a bit stressful, but I really like to run, and I like the training. I really like to compete in triathlons, so the training is worth it."
Landeryou is passionate about achieving her goals and working as hard as necessary to do so. During the school year she attends swim practice for three hours a day, and then gets in another workout after. Often she would wake up even earlier for a morning run. Her coach at Endorphin Fitness, Kevin Mallon, said: "Emily's determination to qualify for Nationals sets her apart from most athletes her age. She is by far one of the toughest young ladies I have ever coached. Her work ethic and leadership ability will allow her to continue to be successful. I am excited to see what the future has in store for Emily, I know she will do great!"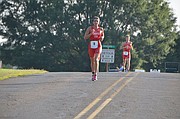 "We just try to keep up!" said her mother, laughing. "We love to see that fire and motivation coming from her."
BESIDES TRAINING, Landeryou loves to read, sleep and make new and exciting foods. As a big sister, she also enjoys taking her younger siblings out to places and explore, always on a bike or a jog.
Landeryou placed 26th individually and tenth in the relay at the National Competition in Ohio on Aug. 1.