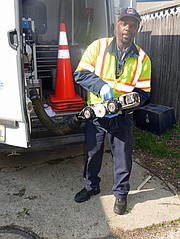 The large white van backs up to the upstream manhole in the alley at Jefferson and Payne. It will take Keith Kehter, about 10 minutes to set up the inspection site with bright orange cones, drag out the hose and cable and warm up the program on the computer. It will record the six-wheel camera as it travels 10 feet down the manhole into the sewer by remote control and winds though the 8-inch sewer pipes.
Kehter is a heavy equipment operator for the City of Alexandria's Department of Transportation and Environmental Services. He calls himself a "sewer line-oscopy technician but with a six-inch wide camera." He says the team takes a proactive approach to inspection and maintenance. There are three programs on the truck for him to operate: recording, camera and cost analysis. Kehter says after he has inspected a sewer line, he prepares a cost-per-foot for that particular inspection. "All of the computer programs can be technical and hard to take in."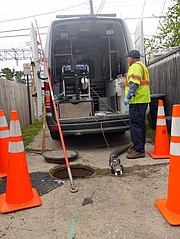 John Taylor, operator II, has the second jetter truck positioned at the downstream manhole 300 feet down the alley. His truck will flush out the line by putting a jetter nozzle up the pipeline, drawing it back with a cable and taking out the solids. The technique itself has been around at least 25 years, but Kehter said, "They used to pull the camera back with a string."
Kehter and Taylor communicate by two-way radio or hand signals. Kehter said, "We don't want any mistakes; the truck is about 10 years old but we got a new $90,000 camera last year (sometimes called his waterproof remote control toy) so we are very careful to get things right and protect the camera."
Kether and Taylor work as a team covering all zones of Alexandria. Ideally they can inspect a city block in about half an hour. They average about 2,000 feet a day; there's 330 feet in a normal city block.
The camera chugs along the pipe, and Kehter watches its progress on the monitor inside the truck. It jerks to a halt. "See, there is a root and those cause problems." Kehter explains that trees seek a water source and the pipe joints aren't sealed so as the pipe settles, the joints expand. One little stem of a root creeps in and makes room for 10 more, and it compounds. Then there are the disposable, biodegradable wipes that get caught around the roots because they don't biodegrade fast enough and it causes a blockage. As the camera moves along, it is looking for separated joints where material around the pipe sinks in and then can cause a sinkhole. Sometimes Kehter sees a pair of eyes staring back at the camera. "Rats are curious about what's going on." Kehter says that Alexandria has an aging infrastructure; clay settles and pipes are brittle. "But it is our job to keep on top of it. And Alexandria is in pretty good shape for its age."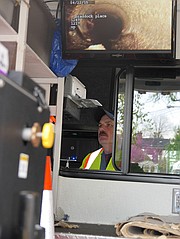 Kehter works four 10-hour day shifts starting about 7 a.m. Monday-Thursday. But this Friday his 24-hour on-call emergency work begins for a week. He says he can get a call at 2 a.m. from someone with a flooded basement full of chemicals and sewage. In addition, on a regular day, they respond to "call, click, connect" reports from residents using Alexandria's on-line resource. Every manhole and pipe in the system has a number. About once a month they need to go down into a manhole in person. But Derek Claytor, the new superintendent of sewers and hydrants, says it takes 10 hours of training to enter a manhole. Kehter says this is due to OSHA standards where one needs to test the air, hook up to a harness and other requirements before entering. But occasionally someone drops car keys down a storm drain or a broken manhole lid falls down the hole into the sewer.
Kehter has been with the city for five-and-a-half years coming to Alexandria from 40 years in Canada where he operated heavy equipment and did mining, then six months in Minnesota. He said, "There is a lot of talent in this department." Taylor has worked 14 years with the city and recently transferred to this job from trees.
Alley complete, on to Del Ray.