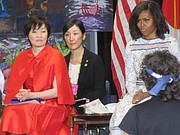 This week, Japanese Prime Minister Shinzo Abe, and his wife, Akie, were welcomed during their visit to Washington, D.C., and on Tuesday, April 28, students enrolled in the Japanese Immersion (JI) Program at Great Falls Elementary School were able to showcase their language skills before First Lady Michelle Obama and First Lady Akie Abe from Japan. They made a special trip from the White House to visit the school.
"You have really, really demonstrated a level of understanding of the culture and the language…And you guys are playing an important role in bringing our two countries even closer together," said Obama in her remarks. The students listened in rapt attention as she encouraged their language study, emphasizing the similarities she noticed between students in the audience and those around their age in Japan.
"Just like all of you, kids in Japan like to hang out with their friends and have fun. They like sports and they like music, they like reading. They like all the wonderful things you guys do here," said Obama.
"I have just visited a Japanese immersion class before coming here and am very pleased to hear the wonderful Japanese in the beautiful accents," said Akie through a translator.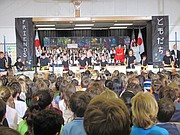 THE JI PROGRAM at Great Falls was started in 1989 in an effort to further incorporate language and culture into the Fairfax County curriculum. In 2006, Eisugakkan Elementary in Hiroshima officially became a sister school to Great Falls, a relationship that Prime Minister Shinzo Abe played a key role in establishing.
"Science, math and health are taught in Japanese," said Caitlin Imaki, co-chair of the Japanese Cultural Committee, a parent-run group at the school. "Most first graders have no exposure. Teachers use expressions and body language to communicate." Imaki, who intentionally moved to the area so that her children would be enrolled in JI, sees numerous benefits to studying the language, and much of what goes into making language program a success is the dedication of parents and teachers working behind the scenes. Beyond classroom exposure, students can even practice taiko drumming in an after-school club.
While many students have no prior exposure to Japanese, some students do. Catherine Hackman, one of three students who asked the First Ladies questions in English and in Japanese, lived in Japan for five years.
"I wanted to continue learning after moving here," said Hackman about her choice to remain in the JI Program. "It was really exciting, talking to the First Ladies."
"It was a once-in-a-lifetime experience," said sixth grade student Maxwell Dumas.
STUDYING A FOREIGN LANGUAGE has the possibility of paying off at the high school level as well. On Tuesday, students from Lake Braddock Secondary School and Hayfield Secondary School were invited to the White House for the welcoming ceremony of Prime Minister Abe. They received this recognition for their success in this year's National Japan Bowl, a competition testing students' knowledge of Japanese culture, language, history and more.
"It was great to see the connection continue," said Great Falls assistant principal, Barbara DeHart about the visit from the First Ladies.
Students all across Fairfax County are eligible to sign up for the JI program at Great Falls, which uses a lottery-based selection process. Currently Great Falls is just one of two schools in the area and in Virginia offering JI to elementary school students.