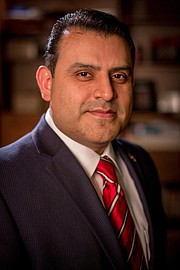 be John Guevara vs. Kathy Smith in the upcoming race to represent the Sully District on the Fairfax County Board of Supervisors.
Smith, Sully's School Board representative, is the only Democratic candidate running to replace the retiring Sully District Supervisor, Michael Frey. And Guevara, a Republican, won Saturday's GOP firehouse primary against two other contenders.
Only 1,362 people voted on April 25, with just 16 votes separating the top two candidates. Guevara, of Fair Oaks, garnered 478 votes; Sully District Planning Commission member John Litzenberger came in second with 462 votes. Brian Schoeneman, former secretary of the county Electoral Board, placed third with 422 votes.
"My team and I are humbled, honored and thankful to all the grassroots supporters who came together to make this victory possible," said Guevara on Monday. "Both John Litzenberger and Brian Schoeneman ran excellent campaigns.
Guevara said he expected the race to be close, but didn't anticipate such a razor-thin margin of victory. And he believes his stance on taxes resonated with many of the voters.
"Several residents told me they voted for me because I presented a plan for curbing the out-of-control, real-estate tax increases," he said. "Our friends, neighbors and business owners in Sully were eager and motivated to be part of this campaign to bring economic relief to overburdened residents."
Next on tap for Guevara will be more knocking on doors to persuade potential constituents to vote for him in November. "I fully intend to keep meeting people and listening to the issues that affect us as Sully residents," he said. He also noted that both Litzenberger and Schoeneman have pledged their support, which "speaks greatly about the unity of our party."
Guevara further expressed appreciation to his family, his team and the GOP leadership for their hard work, encouragement and support.