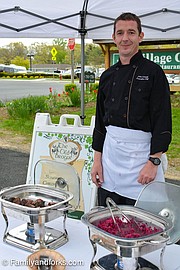 On Saturday, April 25, Great Falls restaurants helped kick off opening day for the summer season at the Great Falls Farmers Market with a focus on a local, sustainable food source in residents' backyards, deer. Local chefs John Conway, executive chef at The Old Brogue, Zamarod Owner and Chef Dor Niaz, and High View Farm's Owner, Craig Hagaman presented dishes to share with Farmers Market shoppers to demonstrate the possibilities and versatility of venison.
Conway adapted one of The Old Brogue's signature dishes to create a Venison Bourguignon utilizing hind-quarter cuts stewed in a succulent wine sauce and surrounded by local carrots and potatoes. Any potential gaminess of the venison is removed by slow cooking, making Conway's Venison Bourguignon almost impossible to distinguish from his more familiar Beef Bourguignon version.
"Although we don't serve venison at The Old Brogue, this venison stew is a great example of how home cooks can incorporate a local and sustainable meat source into our favorite dishes without sacrificing flavor."
IN HIS OTHER DISH sampled at the market, Smoked Venison Tenderloin, Conway marinated venison tenderloins for a day, then pan fried to create a crust. He finished grilling the tenderloins on the smoker provided to the event by Sam Gadell. "Venison is very lean so marinating the meat in advance is another great way to tenderize and add flavor," Conway said.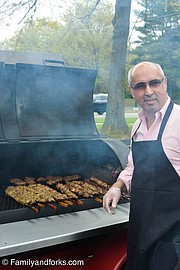 Zamarod's approach to venison, as shown by Dor Niaz, uses bold spice combinations and a hot grill. The exotic aromas of Niaz's Venison Kabobs and Burgers permeated the unseasonably cold air and quickly drew a crowd who waited patiently in anticipation.

Niaz's Venison Tenderloin Kabobs feature meat cubes marinated the day before in a spiced yogurt, and then grilled on a skewer over a hot grill. On a plate, the tender meat cubes practically melt to the slightest pressure of a fork. Niaz served the kabobs over a bed of spinach rice and with a side of spinach from Zamarod.
In another very different dish, Niaz utilizes ground venison and mixes it with the bold flavors of coriander, turmeric, smoked paprika and red pepper for Spicy Venison Burgers. The crowd quickly embraced the platter of burgers redolent of earthy spices and aromas.
"Using bold spices is a great way to address any gaminess imparted by venison meat. It also provides tremendous aroma and flavor to the very lean meat," suggested Niaz.
Craig Hagaman of High View Farm, a farmers market vendor who raises cows, pigs and chicken on his farm in Berryville and brings exceptional beef, pork, chicken and eggs to the market each week, going on his fifth year, barbequed kabobs with his "mystery" sauce which he declined to reveal, and venison roasts prepared with olive oil and a dry rub. Hagaman loves to both hunt and grow happy, well-cared for animals for our local food supply.
Green Fire, a local Great Falls 501c-3 non-profit company dedicated to effective deer management in Great Falls, donated the locally caught venison. Owner Jerry Peters was also at the market informing residents of their options to help control the deer population in their backyards.
THE GREAT FALLS FARMERS MARKET coordinated this educational program in support of sustainable approaches to deer management. Among those present were the Great Falls Citizens Association, providing information on their deer survey, and the Great Falls Historical Society, emphasizing culinary customs typical at the turn of the last century, as presented in their historic pre-1900 cookbook, full of wild game recipes. The farmers market opens every Saturday from 9 a.m. to 1 p.m. next to the Wells Fargo Bank in the Great Falls Village Centre. One of the few year-round farmers markets in the region, the Great Falls Farmers Market vendors offer fresh local produce, baked goods, farm-fresh eggs and meat, as well as fresh cheeses, pickles, hot sauces, and more.