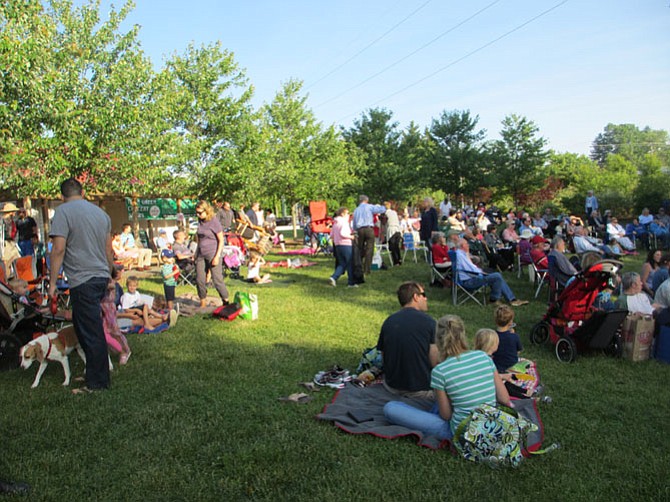 Vienna Farmers Market opens for the season on Saturday, May 2, with seasonal greens, plants, and family entertainment. The market is a producers-only market, and is sponsored by the Optimists of Greater Vienna. The market is open every Saturday through October.
The Vienna Farmers' Market takes place in the back lot of Faith Baptist Church, 301 Center Street South, across the street from Waters Field.
For a list of vendors and to keep apprised of special events, go to http://www.optimistclubofgreatervienna.org/farmersmarket/farmlanding2015.html
PUBLIC WORKS DAY; THURSDAY, MAY 14, 2015
2 to 6 p.m.; Northside Property Yard, 600 Mill Street NE
Town of Vienna Public Works employees – the ones operating heavy equipment that little kids envy – show off their tools of the trade at the annual Public Works Day. Children get to climb on backhoes, front-loaders, and garbage trucks, and crawl into police vehicles. They hang out in little groups and they can safely move around the heavy equipment.
The volunteers hand out "hard hats" and offer an assortment of packaged snacks, drinks, novelties, and balloons. Temporary tattoos and freshly-popped popcorn are popular.
Raffle prizes include construction toys.
VIENNA TOWN GREEN SUMMER CONCERT SERIES kicks off Friday, May 15, with Mama Tried - bluegrass music. Friday night concerts are sponsored by Whole Foods Vienna. Free. Bring a blanket, lawn chairs and a picnic as live music fills the evening air. Little kids move up to the stage area and dance their little feet away. Adults chat with friends and neighbors. It's small-town Vienna at its best.
Check www.viennava.gov, Parks and Recreation, for concert times.
AFTERNOON ON CHURCH STREET CELEBRATIONS, monthly, May through October, last Sunday of each month.
From 1 to 5 p.m. the last Sunday of every warm-weather month, Historic Church Street becomes a pedestrian mecca. Free entertainment and open shops, themed activities and friendly folk, make for a family-focused "fun" day. Church Street Sunday opens on May 31 with the "Avenue of Art."
VIVA! VIENNA! FESTIVAL AND CELEBRATION, Memorial Day weekend, Historic Church Street corridor.
The Rotary Club of Vienna, in partnership with the Town of Vienna, produces Northern Virginia' biggest, most fun-filled summer holiday festival. On Memorial Day weekend, ViVa! Vienna! kicks off on Saturday, May 23, with food vendors, amusement rides, and live entertainment. Sunday and Monday, the Historic Church Street corridor turns into a rollicking, musical festival of merchandise, craft and service vendors (more than 300 of them), carnival food, amusement rides for kids and teens, and two stages (main and children's).
ViVa! Vienna! schedule:
Saturday, May 23: Food and rides open 10 a.m. to 10 p.m.; live entertainment runs 10 a.m. to 10 p.m. Sunday, May 24, Food and rides open 10 a.m. to 10 p.m.; live entertainment runs from 10 a.m. to 10 p.m. and vendors are open from 10 a.m. to 6 p.m.
*Monday, May 25, Vendors, rides, and entertainment run all day from 10a.m. to 6p.m.
Shuttle buses leave from Madison and the Vienna Metro station for ViVa! Vienna.
Rotary International is a service club and 100 percent of proceeds from ViVa! Vienna! go to charitable, community, and humanitarian organizations.
For entertainment schedule, special activities, and a list of vendors, go to http://vivavienna.org/
SUMMER STORIES AND SPRINKLERS, Wednesday, beginning June 24 through August 5.
On the green behind Freeman House, young kids can listen to a story and, then, run through the sprinklers watering the lawn of the Town Green. Come at 1 p.m. for the story and 1:30 p.m. for sprinkler fun. Sponsored by Historic Vienna, Inc. and the Town of Vienna.
JULY 3 FIREWORKS AND ENTERTAINMENT, Friday, July 3; Yeonas Park for live music; Southside Park hosts the fireworks display.
What would Independence Day in Vienna be like without a fireworks display? Well, it would be like a laser show but that is a distant memory. The Vienna Community Center is undergoing renovation and will be closed as of June 1 so no annual Fourth of July festival takes place there this year.
But live entertainment and fireworks continue the tradition … except the 4th of July fireworks display is on the 3rd of July in 2015. "Fat Chance" kicks off the festivities at 7p.m. at Yeonas Park. Next door, at Southside Park, fireworks go off at 9:15 p.m.
July 4th features a fun-fair on the Town Green sponsored by the Town of Vienna. Details not yet available.