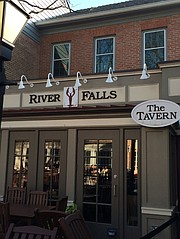 Tavern at River Falls has been acquired by the RW Restaurant Group — partners Robert Wiedmaier, Frank Shull, Joe Lively, and Brian McBride — who own and operate 10 other restaurants that span Washington, D.C., Virginia and Maryland. The newly-painted, more contemporary Tavern will feature revamped wine and craft beer selections, nightly specials and brunch on Saturday and Sunday.
"We are very excited to be here," said Shull, who lives within walking distance of the restaurant. "We have plans to update the décor, and present an entirely new menu. We want Potomac residents to feel they can come here for a casual family dinner or a date night with fantastic cocktails and a great bottle of wine without leaving the neighborhood. We will keep our prices moderate — the Tavern should be a place where people can dine several times a week without digging deep into their pockets."
The restaurant will continue to feature American cuisine sourcing quality ingredients — burgers, steaks, crabcakes, freshly caught seafood specials, and the signature dish at all Wiedmaier's restaurants that pay tribute to Chef Robert's heritage: mussels.
Chef Robert and his RW Restaurant Group own Mussel Bar & Grille in Bethesda, Ballston, Va., and Baltimore; Marcel's in D.C.; Wildwood Kitchen in Bethesda; Brasserie Beck in D.C. and the Kentlands; Urban Heights (the former Roof Restaurant) in Bethesda; and Brabo Restaurant in Alexandria, Va. Wiedmaier is an award-winning chef who was born in Germany, attended cooking school in the Netherlands and then relocated to the D.C. area in the 1980s. He opened his first restaurant, Marcel's, in 1999 and his RW Restaurant Group has expanded across the tri-state area and beyond. Wiedmaier's key culinary advisor, corporate chef Brian McBride and Chef Dean Dupuis, will be leading the change of Tavern's menu that will debut this May to bring innovative items and signature dishes.
Shull said, "We will offer homemade desserts, an expanded wine list, craft beers on tap, and a wider selection of top shelf liquors and cocktails. We are also planning to offer $1.25 oysters for Happy Hour."

The RW Restaurant group bought the Tavern from John Grolig, father of Jeff Grolig who was the previous owner of the Tavern and the River Falls Market. The Market has been sold to Potomac residents James McWhorter and Yasmin Abadian — and the RW Group took ownership of the Tavern on March 5.
Most of the former staff will be retained with new recruit Melissa Foster serving as manager. Shull explained that the restaurant will rent out for private parties — and will also offer a catering menu. "We will feature a special each night, from half-priced wines all evening to specialty-priced cocktails or menu items on another night. We are excited to be here and want the Potomac residents to feel this is their neighborhood spot when they do not feel like cooking at home."
The Tavern at River Falls is located in the Potomac Place Shopping Center in the heart of Potomac Village. Its address is 10128 River Road. To make reservations, call 301-299-0481.