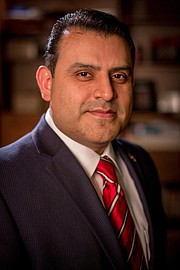 Three Republican candidates are seeking their party's nomination to run for Sully District supervisor. The nominee will be selected April 25, between 10 a.m. and 4 p.m., at a Firehouse Primary at Westfield High. The winner will face Democrat School Board member Kathy Smith to replace the retiring Michael Frey (R) as Sully District supervisor.
When I started this campaign I stated that one of the pain points in our community was in our wallets. Since that kickoff, my wife and I put hundreds of miles on our minivan and knocked on almost 2,000 doors. I talked to moms, dads, business owners, young professionals, teachers, and many more. Your message was overwhelmingly united: "Do something about the high taxes and fees in our county!" Your concerns don't occur in a vacuum, circumstances have driven you to this conclusion. Since I moved to Sully in 2000 our real estate taxes have gone up by 140 percent while local inflation has gone up by only 47 percent. This disproportionate increase has a tangible effect on your wallet. In fact, on average Fairfax County residents are paying $3,000 more per year than they did in 2000. We all know that higher taxes and fees do not stimulate economic growth or increase the availability of good full-time positions. Yet, the Board of Supervisors continues to double down on failed policies that leave you paying the bill with nothing to show for it. We need to send them a clear message on April 25: "Enough!" This is my number one priority as your next supervisor. I will fight each and every day to ensure that our economy gets back on track. I will do this by employing time-tested private sector solutions to correct the county's fiscal mismanagement and establish a long-term plan for budget sustainability. Additionally, I will lead the fight to bring more jobs to Sully by providing relief to small companies that want to do business in Fairfax County. The BPOL (Business, Professional, and Occupational License) tax is a great example of what we are doing wrong, it has to go!
I am a strong proponent of smaller government, one that is efficient and that serves the community. We the people designed, established, and run our government: this is why we must demand that our government be transparent and accountable. Too often we see politicians who use this local office for selfish reasons, they are beholden to special interest groups and not you the voter and resident of Sully. It is because I have lived here in the Sully District for 15 years with my high school sweetheart and where we've raised our two boys, that my commitment as supervisor would be to you and you alone. I have demonstrated that dedication to you since the age of 17 when I swore an oath to defend my country as a U.S. soldier. As a Sully resident I served as your HOA president, CYA coach, PTO board member, Scouts leader, Sunday school teacher, and vice president on the board of directors for Western Fairfax Christian Ministries — a local food pantry here in Sully. You can rest assured that this is the same level of service and commitment that I will continue to give you as your next supervisor.
When Supervisor Michael Frey announced his retirement in January I was asked by several of my neighbors throughout Sully to run. I gathered strength and support from the hardworking, dedicated, and concerned people of Sully. By working together our message that our local government needs to be smaller and more efficient, accountable, and transparent, has been given a seat at the table. But of all the support my campaign has received nothing compares to your encouragement and resounding connection to my candidacy and our shared vision for the future of Sully.
On Saturday, April 25, Sully residents will go to the polls to decide who will run against Democrat Kathy Smith. A candidate that represents business as usual will not win against her tax and spend philosophy. What we need now more than ever is to break that status quo mold. I am that alternative to business as usual and the right kind of Republican that is needed to defeat Kathy Smith. It would be my pleasure and honor to serve you as your next supervisor. I humbly ask for your vote this coming Saturday at Westfield High School between 10 a.m. and 4 p.m.