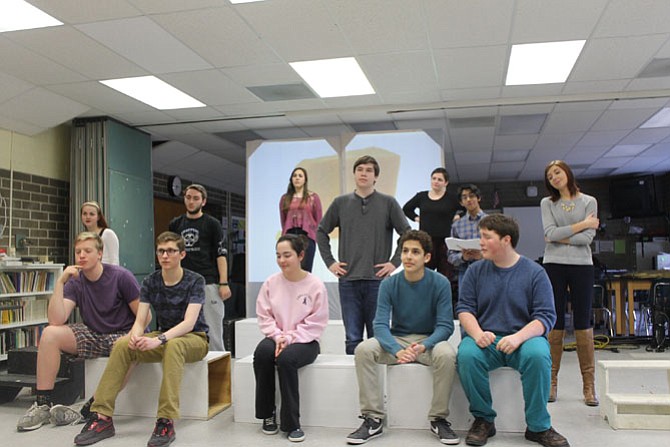 Friday/April 17
Pilobolus. 8 p.m. McLean Community Center, 1234 Ingleside Avenue, McLean. Award-winning, internationally recognized Pilobolus Dance Company will perform innovative, energetic and gravity-defying works. Acclaimed for its mix of humor, invention and drama and for the quickness and athleticism of its dancers, the company continually breaks down barriers and challenges the way people think about dance.Tickets are $50 for the general public and $40 for McLean tax district residents.
"Other Desert Cities." 8 p.m. Vienna Community Center, 120 Cherry St. SE, Vienna. "Other Desert Cities" tells the story of the fictional Wyeth family — a clan led at the top by a mother and father highly regarded in old Hollywood circles and admired by Republicans for their service to and friendship with the Reagans in their heyday. The play explores the dark family secrets that threaten to destroy external and internal perceptions about the life the family members lead. Runs through May 2. Visit www.viennatheatrecompany.org for more details.
Eileen Ivers. 8 p.m. The Barns at Wolf Trap, 1635 Trap Road, Vienna. This virtuoso's award-winning skill and Irish-inspired playing prove she is "the Jimi Hendrix of the violin," according to The New York Times. $27-30. 703-255-1900.
NoVa-Annandale Symphony Orchestra. 8 p.m. Richard J. Ernst Theater, 8333 Little River Turnpike, Annandale. Christopher Johnston, conductor. Music by Haydn, Mendelssohn, Holst, and Scott Joplin. Tickets at the door $15, students $10, children 12 & under free. Sponsored by NOVA College and the Reunion Music Society. Call 703-569-0973 for information.
Jewelry Making Workshop. 7 p.m. Reston Regional Library, 11925 Bowman Towne Drive, Reston. You will learn the basics of jewelry making and create your own original piece in this hands-on workshop. We provide the materials, participants bring the imagination! Registration is required for this event. Adults.
Saturday/April 18
Washington Area Folk Harp Society 2015 Annual Concert. 7:30 p.m. Knox Presbyterian Church, 7416 Arlington Blvd., Falls Church. WAFHS presents "The Harp Goes Creative", featuring Abigail Palmer, Jo Morrison, Heatherwood Harp Ensemble, Southern Maryland Harp Circle, and a Many-Harp Grand Finale. Tickets at the door. $15 Adults. $10 Students and Seniors. For info and directions visit www.wafhs.org.
Weekend Bluegrass Concert: Ash Breeze. 6:30 p.m. Holy Cross Lutheran Church, 1090 Sterling Road, Herndon. Ash Breeze is a new breath of fresh air on the bluegrass music scene recording on the Mountain Fever Record label. These fine young musicians are the future of bluegrass and they are full of energy, a love for their music and talented beyond belief.
Annual Spring Faire. 10 a.m. - 3 p.m. Kirkwood Presbyterian Church, 8336 Carrleigh Parkway, Springfield. The Woman's Club of Springfield is sponsoring the event. There's something for everyone - jewelry, fashion, home decor, kitchen, garden, gourmet, and more! Free admission. Proceeds will be donated to Bethany House to help victims of domestic abuse. Information about us: www.womansclubofspringfield.org; 703-451-2467 (The Pink Elephant thrift shop)
Way Out West. 2 and 7 p.m. The Fairfax Jubil-Aires, 13421 Twin Lakes Drive, Clifton.The Fairfax Jubil-Aires will perform their annual show, this year entitled "Way Out West." A Western tale surrounded by songs of the American West, and supported by guest artists including international level quartets and the Bella Nova women's chorus. Visit www.fairfaxjubilaires.org for details and tickets.
Ballroom Social Dance. 7:30-10:30 p.m. Workhouse Arts Center, 9518 Workhouse Way, Lorton. Get on your dancing shoes and come out to the Workhouse for an evening of social ballroom dance led by one of our instructors. Bring a friend, a date or a group and enjoy a casual, fun night out.
Springfield Community Day: Health Fair. 11 a.m. - 3 p.m. Northern Virginia Community College, Medical Education Campus, 6699 Springfield Center Drive, Springfield. Health screenings, blood pressure screening, nutritionist presentation, farmers market, food, music and much more.
Earth Day Climate Jam. 7:30 - 10 p.m. Unitarian Universalist Congregation of Fairfax, 2709 Hunter Mill Road, Oakton. Performers will include: Craig Phillips, Debu Nayak, and Soumya Chakraverty (Indian Classical); SongRise (Progressive Acapella); Kofi Dennis (African Percussion); and UUCF Earth Band (Green Rock). Refreshments and light snacks will be provided. Suggested donation at the door: $10. Children Free; and free child-care provided. (RSVP to childcare@uucf.org by April 15). For more information and to RSVP, see www.faithforclimate.org.
Model Trains and Thomas at Open House. 1-5 p.m. Historic Vienna Train Station, 231 Dominion Road NE, Vienna. See and hear model trolleys and steam and diesel trains plus Thomas and some of his friends. The layout reflects the mountainous terrain and towns of Western North Carolina with award winning structures. Free admission. 703-938-5157. www.nvmr.org.
Sunday/April 19
"Call Me William: The Life and Loves of Willa Cather." 2 p.m. McLean Community Center, 1234 Ingleside Avenue. The life and times of Pulitzer Prize-winning author Willa Cather are explored in the show, by Prudence Wright Holmes. Tickets are $20 for the general public and $15 for McLean tax district residents.
Amadeus Winds. 4 p.m. Saint Luke Catholic Church, 7001 Georgetown Pike, McLean. The Amadeus Winds will perform a concert. Tickets are $30 and may be purchased at the door or online at http://www.amadeusconcerts.com. Students 17 and under are admitted free of charge.
Breakfast Buffet. 8 a.m.-noon. American Legion Post 180, 330 Center St., N., Vienna. Omelets, scrambled eggs, bacon, sausage, blueberry pancakes, biscuits, sausage gravy, home fries and fruit. Adults $8, children 12 and under $3. Call 703-938-6580 for more information.
NTRAKScale Model Train Show. 1-4 p.m. 11200 Fairfax Station Road in Fairfax Station. The Northern Virginia NTRAK members will hold a N gauge model train show. Museum members, free; adults 16 and over, $4; children 5-15, $2; under 4, free. Information on the museum and shows is at www.fairfax-station.org or 703-425-9225.