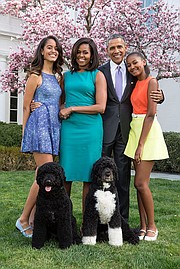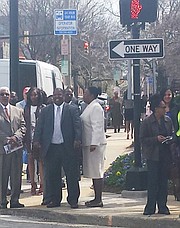 Members of Alfred Street Baptist Church received an unexpected visit from the First Family at the 10:30 a.m. Easter Resurrection service. The church has a history that stretches back to 1803, making it one of the oldest historically black churches in the country. Pastor Howard-John Wesley delivered a sermon titled "Why the Resurrection Matters."
In previous years, President Barack Obama, First Lady Michelle Obama and daughters Sasha and Malia have attended worship services at St. John's Episcopal Church, Shiloh Baptist Church, 19th Street Baptist Church and Allen Chapel A.M.E. Church.
"It was definitely kind of surreal for me," said Carla Welborn, who was seated on the opposite side of the sanctuary, in a row behind the First Family. "Felt honored, blessed and privileged to have the President and First Lady and their family worshipping at the same place where you worship. I think you could feel how proud Alfred Street members were to have them."
President Obama and his family arrived, unannounced, and stayed for the entire service, leaving only shortly before the congregation was dismissed. And while many would agree that their visit was a highlight, Welborn says their presence did not distract from the overall worship service.
"After a while, with the sermon, singing and the choir, you almost got kind of wrapped into the Easter service and kind of forgot they were … So it wasn't like everyone was staring at them. I think that allowed them to have as much of a normal experience as they could have," she said.
The Friday before Easter, announcements about road closures began to appear. Route 1, which leads into Alexandria, was closed, as well as sections of Duke Street and Alfred Street, near and around the church. The road closures were in effect from 9 a.m. to 12:30 p.m.
Obama is the second president to visit Alfred Street Baptist Church. Back in November 2000, former President Bill Clinton visited the church during the election season.
"Definitely it was a once-in-a-lifetime opportunity to worship on Easter Sunday with the First Family," said Welborn. "It was just excitement and whether the president was sitting next to you or not, you felt that joy and excitement, and we were just so proud."