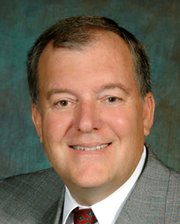 Three Republican candidates are seeking their party's nomination to run for Sully District supervisor. The nominee will be selected April 25, between 10 a.m. and 4 p.m., at a Firehouse Primary at Westfield High. The winner will face Democrat School Board member Kathy Smith to replace the retiring Michael Frey (R) as Sully District supervisor.
Neighborhood – I have lived in Virginia Run for 27 years.
Occupation - Aviation business owner, USAF retiree
Family information – My wife Barbara and I have three children and six grandchildren.
Accomplishments in the community:
1980 - Helped form the West Fairfax County Citizens Association (WFCCA)
1982- 1983 – Organized a comprehensive voter registration drive – 2000 signed up.
1987 - Lord Fairfax Award for outstanding volunteer service
2007 - Celebrate Fairfax "Volunteer of the Year Award"
2008 - 2015 Helped obtain over $20 million of amenities for the Sully District with no taxpayer dollars
Organizations (volunteer or otherwise) served on:
1983 - 1988 – Member- Centreville Core Study
1983 - 1994 – Member-WFCCA Land Use Committee
1983 – 1994 - WFCCA Education Committee
1986 - 1988 – President, WFCCA
1991- 1993 - Vice President, Virginia Run HOA
1991 - 2008 – Youth and High School Lacrosse Coach: CYA, SYA, Centreville HS, Westfield HS
1992 - CYA initial coach's cadre for lacrosse
1995 - SYA lacrosse instructor
2004 – 2008 – Sully District Housing Commissioner
2008- Present – Sully District Planning Commissioner
1980 – 2013 Centreville United Methodist Church – Chairman of the following committees: Long Range planning, Finance, Trustees, Planning and Policy, Building Committees
Why run for supervisor?
I am running to preserve the quality of life in the Sully District. I am the only candidate who has demonstrated his commitment to work with the Sully residents and has the results to show for it. I am not new to the Sully District or new to politics; I know what the people deem important and will work tirelessly to listen to community concerns and take action to deliver results. I have the contacts within the Government Center, business community and homeowner associations to get things done quickly and satisfy residents' needs.
Platform – What do you believe are the important issues facing the Sully District and what would you do about them?
The current tax policies of the Board of Supervisors are driving both homeowners and businesses out of the county. The taxes have risen over 140 percent during the last 16 years. The taxes need to be reduced and be more consistent and predictable.
The Board of Supervisors allocates over 50 percent of the budget to the School Board. The School Board members voted to give themselves an 85-percent pay raise, yet voted for a 1 percent raise for the teachers. The BOS needs to pressure the School Board to stop focusing on itself and start focusing on the students, their parents and teachers.
I am the only candidate running who has experience with the proffer system. I will continue to obtain amenities from the business community to improve life in the Sully District such as athletic facilities, road improvements, school donations, parkland, etc., with no tax dollars. I have already obtained $20 million of improvements for athletic fields and road improvements with no tax dollars.
Why should people elect you? Why are you the best person for the job?
I am the best-qualified candidate for the job. As all the Sully community leaders have said, "John listens and John delivers." My two opponents are very nice people. However, my 35 years of living in Centreville give me the clear edge in knowing what is needed and how to get it.
It took me 12 years on the WFCCA Land Use Committee, four years on the Housing Authority and eight years on the Planning Commission to master the proffer system. My opponents are where I was in 1983 when it comes to this process.
Most importantly, I will be a full-time supervisor. My opponents want to continue their full-time jobs and be a part-time county supervisor. I have seen this problem while sitting on the Planning Commission. Those part-time supervisors cannot represent their constituents adequately. This is why the Board of Supervisors voted 6 to 4 to make the position full time.