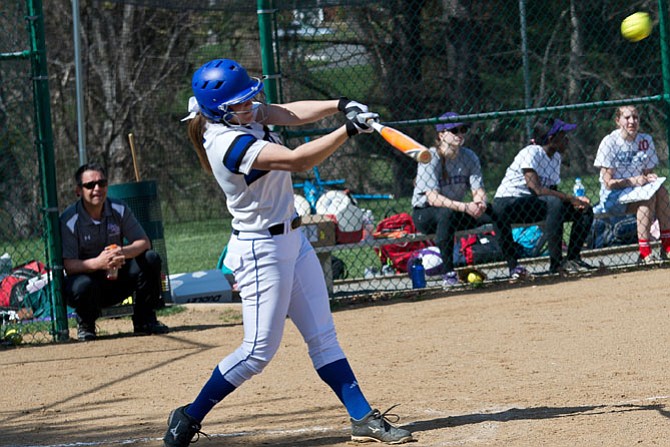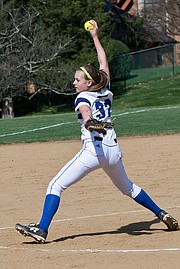 Starting in the pitcher's circle for the second time in her high school career, Bishop O'Connell freshman Kathryn Sandercock is overpowering Holy Cross, continuously blowing fastballs by the over-matched Tartans.
Sandercock is piling up strikeouts as the game progresses, reaching double digits by the fourth inning. Meanwhile, head coach Tommy Orndorff stands near the Knights' bench, confident he has three other players who can step into the circle and have success.
Playing left field on this sunny day in Kensington, Md., is sophomore transfer Patty Maye Ohanian, a travel-­ball pitcher who committed to the University of Illinois as a freshman. She allowed just one run in seven innings on April 11 against a tough Brookville team.
At first base is Olivia Giaquinto, who wants to play college softball in the Ivy League. Orndorff has confidence in the junior right-­hander to enter the circle as a reliever.
Watching from the bench on this Monday afternoon is Erin Sweeney, who will play for Mount St. Mary's next season. Sweeney leads O'Connell in innings pitched (32), wins (6) and strikeouts (35) during the 2015 season.
Orndorff says he trusts his senior hurler more than any of the Knights' other talented pitchers. Sweeney started in the circle for O'Connell's 2014 state championship team while dealing with the pressure that came with replacing 2013 graduate Tori Finucane, a two-­time All-­American who was named 2014 SEC Freshman of the Year as a pitcher for the University of Missouri.
While Orndorff is confident Ohanian, Giaquinto or Sweeney can succeed in the circle, today is about the Knights' freshman flamethrower, who finished her performance by striking out two more Tartans in the fifth and final inning.
The Bishop O'Connell softball team cruised by Holy Cross, 18-­0, on April 13, improving the Knights' record to 10-­0. Sandercock tossed a no­-hitter and struck out 12 while walking just one.
"Today, she looked very, very good," Orndorff said. "Her location at times has probably bothered me, but she seemed to be pretty much on target today. ... I'm not sure that she could do much better."
While many teams would love to have Sandercock, who can touch 66 mph with her fastball, as their unquestioned starter, No. 32 is merely a piece of an O'Connell pitching staff that offers Orndorff a seemingly unfair number of options.
While depth is a benefit, it comes with a price. How does a head coach keep four talented and competitive pitchers happy when there are only so many opportunities to go around?
"I don't know if there's a correct answer for that," Orndorff said. "It's certainly a problem, but it's a nice problem to have. There are a lot of people that would like to have just one of those guys."
Sandercock improved her season strikeout total to 23 on Monday. She has allowed five hits and four earned runs in 11 innings, giving her an ERA of 2.55.
"Kathryn," Orndorff said, "when it's all said and done, may be the best of the bunch."
On April 2, Sweeney allowed one earned run and scattered eight hits in five innings during an 8-­1 victory over defending WCAC champion St. Mary's Ryken.
Last season, St. Mary's Ryken defeated O'Connell in the WCAC final, snapping the Knights' streak of 10 consecutive titles.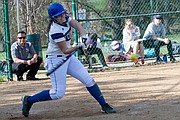 "That was a big game for us," said Sweeney, who earned the win in the circle on April 2. "Yes, [losing in last year's WCAC final] definitely serves as motivation for us. At O'Connell, we know how to win and so that's expected of us. ... I know we are very motivated us this year. We want that title back."
Ohanian pitches for her travel team and wants to pitch in college, but has been limited in her opportunities at the high school level. As a freshman at Lake Braddock, Ohanian was stuck behind standout senior pitcher Ashley Flesch, who helped the Bruins reach the state tournament. Instead of pitching, Ohanian played third base.
After transferring to O'Connell, Ohanian has 13 strikeouts and an ERA of 0.64 in 11 innings during the 2015 season.
"It's definitely hard to get used to because for my travel team I do pitch a lot," Ohanian said. "Wherever I can help out, that's where I want to be. ... It was hard for me [at Lake Braddock] because I love pitching; that's what I'm going to do, hopefully, in college. I definitely had to learn my place — I had never played third base before, [I was] learning a completely new position. But I think last year really helped me work on my offensive game, which I think has really carried through to this season.
"But I'm hoping as the years progress, here at O'Connell, I'll pitch more and more and more."
Ohanian has been the Knights' best hitter, batting .684 with five doubles, two triples, one home run and 23 RBIs in 10 games.
Giaquinto has yet to surrender an earned run in eight innings of work. Offensively, she's hitting .444 with three home runs and 22 RBIs.
Orndorff said he will continue to evaluate his pitchers and use whoever has the hot hand as the season progresses.
O'Connell has its sights set on repeating as state champion and avenging last season's WCAC championship defeat against St. Mary's Ryken. The Knights like their chances, thanks in large part to a very talented pitching staff.
"This team could be very, very special," Orndorff said. "They're very capable of getting that [WCAC] championship trophy back and doing well at states."