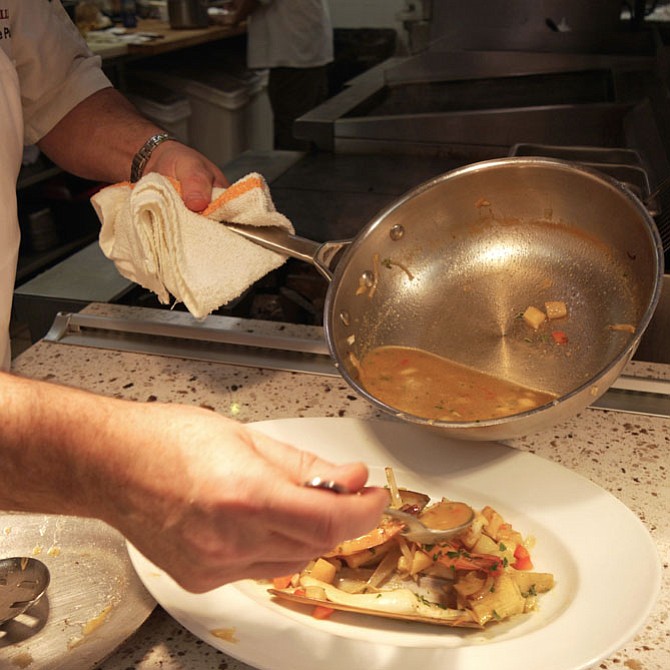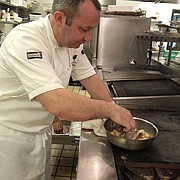 A bucket of 5-inch long pod-shaped razor clams from Virginia Beach sits on the counter ready for the lunch special at Bastille.
"This dish is seasonal," said Chef Christophe Poteaux. "It depends on the moon cycle since you need a wide beach when the tides are out to harvest the clams. The clams dig deep into the sand." The chef will add "a little bunch of vegetables" from a tray of square white containers. Into the skillet with a little oil go the artichokes, fennel, celery, carrots, peppers and tomatoes and he says shaking the pan, "we sauté them but not so much they color."
Poteaux added, "I've seen people become more adventuresome these days. Ten years ago they wouldn't have ordered braised veal breasts, and hangar steak was a little obscure." He added that side dishes of vegetables and small plates are a lot more popular because they are nutritious. He says this past winter the customer favorites have been the short rib beef daube, and the potato gnocchi, "and there's the homard curry (lobster Thai style.)" But Poteaux said, "I have a personal feeling about duck — confit on cassoulet, rillettes and duck prosciutto which I cure for 48 hours and then hang to dry."
He sees a trend inpeople interested to know where their ingredients are from locally. "As a French person the ingredients are essential."
Poteaux always wanted to be a chef. He had a cousin in France with a restaurant where he sometimes worked in the summers as a youth. "My other influence was my grandpa, who was a baker. See his picture is in the hallway," he said, pointing through the kitchen door. Poteaux spent several summers there with his grandpa. He came to the U.S. in 1997. "I worked in finance and banking and got a late start on cooking. I made a good living, but I was miserable." He went to Los Angeles, then moved to New York. From 2003-2006 he was a chef at the Watergate Hotel.
Poteaux rubs salt between his fingers, and adds tellicherry pepper, a splash of chardonnay and shellfish broth to the skillet. He covers the dish for 3-4 minutes. "Get me a cassoulet dish," he said, adding the large pink shrimp at the last minute "so you don't over do it."
Michelle Poteaux appears around the corner with a sheet of crisp newly-baked focaccia."I thought you might want to use these with some aioli on the dish with the special."
He says the most difficult thing to cook is lobster because you have to be careful of the temperature or "it will curdle and get tough." Also duck because it is lean and gamey so you have to cook it slowly on the skin to render the fat. Poteaux begins his day about 9 a..m when "I make sure everyone is on time." Then he checks his ingredients.
The menu is set for the season but he may change one dish, and he has a special for the day. "For instance we had rockfish two weeks ago when they told me they could go to the water to get some." When they have a special he will do it himself the first few times so the others in the kitchen know how for next time. "I am the quality control."
Sometimes he gets an idea. "I have been cooking for 20 years so I start with a classic and add a few things. My ideas burst." He thinks of the seasons, what is fresh and then adds protein. But he says he has failures. "Then I laugh." Before he puts a new dish on the menu, he tries it out on his staff and then adds it to the menu when it's ready.
Large black and white pictures of his wife Michelle and the children line the walls in the main dining room. Michelle is the pastry chef originally from Billings. Mo., and they met Aquarelle, formerly in the Watergate. Today she has made ananas rotie, roasted spiced pineapple with almond cake. Bastille moved to its present location on N. Fayette Street in January from its former location on N. Royal Street. Poteaux said they were bursting out of the old building. Now they have a main dining room with 45 seats and a smaller one in back, "plus a 40-seat patio just waiting for spring. With the development of the waterfront and the sale of the power plant, this area is flourishing."