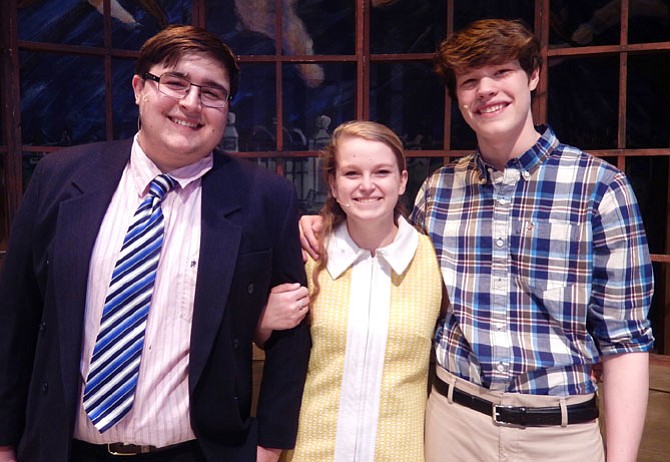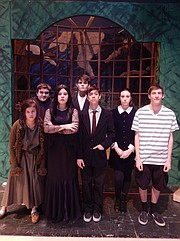 A continuation of the popular, 1960s TV show, "The Addams Family" will take the stage at Paul VI High. A musical comedy, it features a cast and crew of 75 and promises to be rollicking, good fun.
"We've been rehearsing since February and things are going great," said director Katherine Miller. "It's a spooky, Halloween-y, new play that just became available to high schools to do."
The eccentric Addams family – parents Gomez and Morticia, daughter Wednesday and son Pugsley – live in an eerie mansion in New York's Central Park, along with some equally weird relatives. The story's set in modern day, with the action propelled by Wednesday's engagement to a normal person named Lucas, played by Nathaniel Smith.
"She's afraid his family and hers won't get along, so she asks her dad not to tell her mom that they're engaged," said Miller. "For awhile, things don't go well, but love triumphs in the end."
"The actors are so talented, and we have several seniors, as well as new people," she continued. "Assistant director Kathy d'Alelio did the choreography, and Karen Hoppe is the vocal director. And the audience will enjoy the play's quirky sense of humor, clever dialogue and modern rock songs."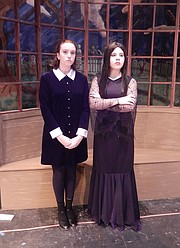 IN KEEPING WITH THE TV SHOW, the Addams family wears mostly black clothing, with Gomez in a suit and tie and Morticia in a long gown. "The scenery was built by our hardworking dads with drills," said Miller. "It's a sensational set depicting the interior and exterior of the Addams mansion."
Portraying Gomez is senior Joey Arzeno. "He's a high-energy character and, arguably, the most consistently weird person in the show," said Arzeno. "His eccentric personality is all over the place, but he likes everyone and always has good intentions."
"Because I'm also a physical person, it's easy to get into this role," he said. "The songs are hard, but it's a unique part because I get to do everything from sword fighting to dancing the tango."
Arzeno especially likes his solo, "Happy Sad," calling it "a good contrast showing a different side of Gomez being sentimental about Wednesday growing up and getting married." But, he added, "All the songs are really catchy and will get stuck in people's heads."
Junior Abby Rozmajzl plays Morticia. "She just wants what's best for her daughter," said Rozmajzl. "She wants Wednesday to find someone like Gomez, who's loving and who'd die for his wife. Morticia and Gomez never keep secrets from each other. They have a loving marriage and tell each other everything."
Calling her character "elegant, reserved, fluid and mature," Rozmajzl said Morticia has "a hidden sense of passion when she's around Gomez. She's a blast to play because she can be angry at Gomez, one minute, and dancing with him, the next. She also has the funniest lines and is funny without realizing it."
Rozmajzl's favorite number is the "Tango de Amor," a dance between Morticia and Gomez. "It's incredible, and a hard and complicated piece to perform," she said. "But that's why I like it, and it'll look really beautiful on stage. I'm so excited about it."
She said the audience will "love the show's dark humor because it's hilarious. And they'll like all the different time periods and Addams ancestors that we show. I'm also in charge of hair and makeup, which will have intricate designs for the faces to reflect those time periods."
Wednesday, now 18, is portrayed by sophomore Caleigh Davis. "For most of her life, Wednesday's been kind of dark and unemotional," explained Davis. "But when she meets her fiancé, Lucas, it awakens all these emotions she's never felt before. She's loyal to her family but, after meeting him, she realizes her family isn't normal, and she's conflicted about changing herself for Lucas."
Although Davis usually plays cheery roles, she's enjoying this one because her character "has more depth to her, and it's nice to get into her emotions." Davis especially likes her solo, "Pulled," because it's when Wednesday first confronts her emotions and the audience sees a new side of her.
She said people will appreciate the show's wide range of characters and the near "cultural clash" between the Addamses and Lucas's family. "They'll also like all the shenanigans going on," added Davis. "And we have some great songs and dances."
Junior J.J. Cummings plays Uncle Fester. "He's a lovable goofball," said Cummings. "He's a little crazy, but he likes having fun – and he's not afraid to have it at other people's expense. I love playing this part because Uncle Fester has lots of good songs and he's in motion a lot, and I can relate to his goofiness."
Cummings's favorite song is "The Moon and Me," which he sings. "It shows Fester's depth and what he's about – and that, although he's eccentric, he's not incapable of love." Overall, he said, "The audience will love the actors' comedic timing; and Joey, as Gomez, is hilarious. And we put a lot of work into all the wonderful music."
THE CURTAIN rises Friday-Saturday, April 17-18, at 7:30 p.m., and Sunday, April 19, at 2 p.m. Tickets are $13, adults; and $8, students and senior citizens via www.paulvi.net or $15 and $10, respectively, at the door.