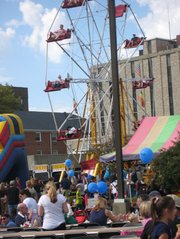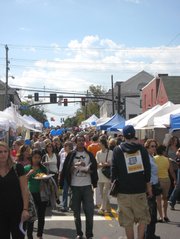 There's something for everyone at the Fairfax Fall Festival. This year's event is slated for Saturday, Oct. 11 (rain date, Oct. 12), from 10 a.m. to 5 p.m., and offers everything from crafts to food, music, children's activities, rides, four stages of entertainment and lumberjacks.
During the festival, the downtown streets in the City of Fairfax are closed to traffic. Instead, booths and displays will line both sides of Main Street, University Drive and Sager Avenue.
There'll be more than 400 vendors, including juried crafts people selling a variety of handmade items such as jewelry, quilts, toys, vases, woodcrafts, needlework, photography, dolls, wind chimes, baskets and pottery. And besides the traditional food vendors, a contingent of specialty food trucks will also be on hand. As for entertainment, the Main Stage and beer garden will present bands from 11 a.m.-5 p.m.
The Main Stage lineup includes:
11 a.m.-1:30 p.m. – The Reflex (a 1980s tribute band)

2:30-5 p.m. – Bruce in the USA (a musical history of Bruce Springsteen and the E Street Band)

The Country Stage and beer garden presents:

11 a.m.-noon – The Kevin MaC Band

1:30-3:30 p.m. – SouthPaw
The Festival Stage will feature:
Noon – Main Street Community Band

1:15 p.m. – Woodson High Drama

2:15 p.m. – Fairfax Choral Society

3:15 p.m. – Shepard's Pie
The Children's Stage will offer:
10 a.m. – School of Rock

11:45 a.m. – Turley the Magician

12:30 and 2 p.m. – Chuck F (a juggler)

2:30 p.m. – Blue Sky Puppet "Jester's Box"

3:20 p.m. – Reptiles Alive!

4 p.m. – Sophia Music Studio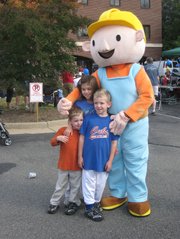 There's no entrance fee to attend the Fall Festival, but there'll be fees for certain rides and children's activities. However, the amusement rides will run until 8 p.m. And Fire Station 3 on University Drive will welcome the public to its open house.
New this year is the All-American Lumberjack Show and Interactive Lumberjack Camp. Sponsored by JL Tree Service, professional lumberjacks will compete in 11 different events throughout the day while festival-goers cheer them on.
Attendees will be able to see the lumberjacks' skills wielding everything from axes to modified racing chainsaws to cross-cut saws. There'll even be water events and to audience participation. Show times are 10:30 a.m., noon and 4:30 p.m., and the lumberjack camp is set for 3:30 p.m.
To reach the festival, people may park at Fairfax High and GMU and take shuttle buses to and from the event.
Handicapped parking will be at the parking lots at City Hall, Main Street and East Street, as well as at 4041 University Drive. Festival sponsors include Fair City Mall, radio station 97.1 and WASH FM. For more information, call 703-385-7858 or go to www.FairfaxFallFestival.com.