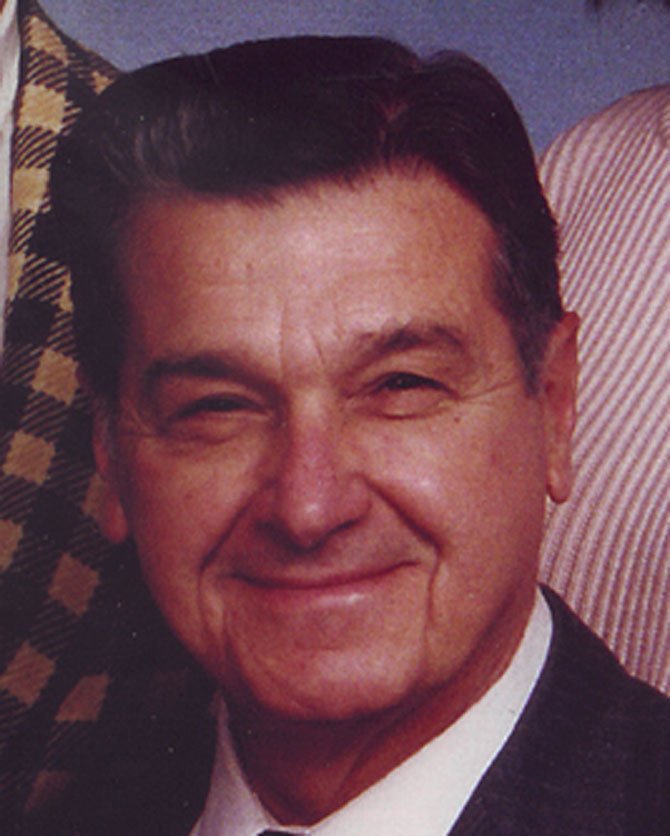 Longtime Mount Vernon community leader and former state Del.Frank Medico is recovering from a fall that caused multiple fractures to his back, collarbone and sternum.
A resident of the Mount Vernon/Fort Hunt neighborhood since 1964, Medico, who celebrated his 90th birthday this summer, has been a Republican political fixture for half a century, serving among many other volunteer roles as a co-chair of the Mount Vernon Council of Citizens Associations, and was elected to four terms in the state House of Delegates.
Frank Medico Bio
90 years old. Born in South Braintree, Mass.
Married: Vaughnita Osborne-Medico (deceased, 2008)
Children: Patricia, Jane, Fred
Member of St. Louis Catholic Church
Member: Lions Club and Knights of Columbus
Education:
B.C.S., Benjamin Franklin University
Master of Financial Administration (M.F.A.), Columbus University
Certificate of Completion, A.M.P., Harvard Graduate School
Military Service: U.S. Navy: 1942-46; 1950
"Frank served the residents of Fairfax County in Richmond for years. He was also a good friend of my father's. I was very sorry to learn of his fall and wish him a full and speedy recovery," Springfield Supervisor Pat Herrity said.
"Mount Vernon has been a great place to live and raise my three children; my wife Nita and I never regretted our decision to settle here in the '60s and never once thought of moving," Medico said.
Prior to his local and state community service, he spent more than 20 years with several federal agencies, primarily with the General Accounting Office, now called the Government Accountability Office. As a certified public accountant and project manager, Medico supervised management reviews for the committees of Congress responsible for oversight of the U.S. Postal Service, the Internal Revenue Service, and the District of Columbia government among other federal agencies.
In a recent interview, he recalled a number of federal management review projects he directed that resulted in savings. One project he described was his successful effort to save hundreds of millions of tax dollars in blocking the purchase of an expensive mail processing machine that was proven to be inefficient but not reported to decision-makers as such. Before the GAO analysis that he directed, Medico said the Postal Service was prepared to purchase a large number of processing machines to be located all over the U.S. His analysis stopped the purchase.
This experience at the Federal level was in sharp contrast to what he said was a frustrating experience in the General Assembly where good ideas and proposals were not pursued. As one of only 15 Republican members of the House during his tenure, the ideas and views of his caucus were routinely ignored. He said he did have an impact on the budget but overall was consistently rebuffed by the majority party. Not seeing a change in control of the House of Delegates in the foreseeable future, Medico decided to leave elected politics and return to the behind the scenes role that he has since played within the Republican party, with members of the General Assembly, and local appointed and elected officials.
Until only very recently, having suffered the consequences of his recent fall, he has conducted research and prepared letters to various political and community leaders and letters to the editor to this and other papers to comment on matters of current interest and debate.
"Mount Vernon community activism is part of what makes our area a special place to live, work, and raise a family," Medico said. He is working hard to get well with the help of his family, and looking forward to continue to speak out on matters of public importance in his self-described role as a community watchdog.