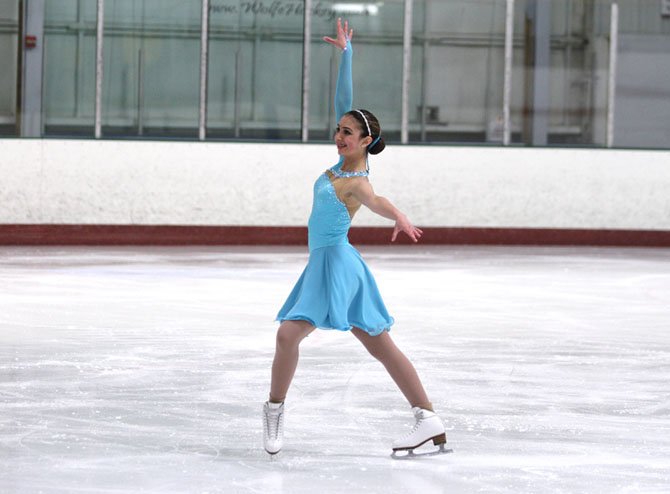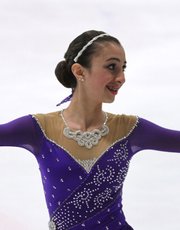 Just 15, Paul VI sophomore LaDan Nemati has a full plate. From November-February, she skates with a synchronized skating team in Delaware; and during the spring, summer and early fall, she does solo ice dancing.
During July and August, the Clifton resident won five gold medals for solo ice dancing in competitions in New Jersey, Delaware and Pennsylvania. And this week, she's in Colorado Springs competing in the Solo Ice Dance National Championship.
"I'm really excited to get to go there again," said Nemati. "I competed there last year in just one event and came in second in the whole country."
Representing the Eastern Region – states from Maine to Florida – she's ranked as one of the region's top six skaters. She'll compete Thursday-Friday, Sept. 18-19; and if she does well, she'll vie on Saturday in the final round.
But Nemati's worked hard to reach this point. She's skated nine years, starting with group and then private lessons, and hones her skills constantly at Skatequest in Reston.
"During the summer, I practice every day from about 8 a.m.-4 p.m.," she said. "During the school year, I practice from 3:30-5:30 p.m. every day and have synchro practices in Delaware on the weekends."
NEMATI'S COMPETITIONS this summer were against eight to 10 girls, each time, and she represented the Washington Figure Skating Club. She trained hard for each event and was surprised to have won so many gold medals. But, she said, "I was relieved to know all the hard work I put into practicing and preparing for the competitions paid off."
To make it to Nationals, she was ranked by U.S. Figure Skating. "You gain points based on your placement in different competitions," she explained. "I finished first overall in the Pre-Silver [level] Pattern Dance Event – fox trot, European waltz and 14 Step [a march]. And I was second overall in the Intermediate Combined Event – doing the fox trot or European waltz, plus a solo free dance."
Nemati and her coach choreographed the free dance together; she skated to Michael Buble's version of Frank Sinatra's "Come Fly with Me." At Nationals, she'll be vying against 18 other girls in both events, and she can hardly wait.
"I really love the atmosphere; Colorado Springs is so pretty," she said. "And I'm looking forward to making a bunch of new friends and doing these dances one last time. After Nationals, I'll move up to a higher level of competition. I'm feeling pretty confident about qualifying for the final round. I think that, if I skate like I usually do and believe in myself, I'll hopefully medal."
However, said Nemati, the past few weeks leading up to Nationals have been really tough for her, with the pressure of preparing for the competition, starting school and practicing for the upcoming synchronized-skating season, all at the same time. "But I enjoy competing at Nationals," she said. "And I love the feeling when all my hard work pays off."
Still, it's difficult balancing skating with schoolwork. "I have lots of homework, which I do from 6:30-10:30 p.m.," she said. "But I'm trying to work faster and do it more efficiently." She's currently considering a career in law or as a nutritionist or an exercise scientist, studying how the body functions during exercise.
NEMATI'S ADVICE to budding, young ice skaters is to keep trying and not give up. "It's hard at first and will feel like you're not getting anywhere," she explained. "But if you continue to practice and believe in yourself, then someday you can achieve your goals and even compete at the national level, if that's your dream. It all starts mentally – you just have to believe."