Despite having spent the morning swimming, biking and running, Neil Medoff wasn't impressed with himself.
The Reston resident is one of two triathletes who has competed in the Reston Triathlon all 31 years it has been an event, but he said Sunday's race was not a personal best.
Although he mulled over whether he will do next year's race, Medoff said Reston's event is one of the best of its kind in the country.
"It's one of the nicest ones," he said. "It's my home.
He has done about 120 triathlons total, but had a hiccup when he needed to get spinal surgery three months ago. After a month of recovery, he had one last month to prepare for the race.
Medoff joked that he and Rick Uhrig, another Reston-area triathlete who has competed in all 31 events through the years, are waiting for the other to retire from racing.
Uhrig said he lives inside the triathlon bike course. He signed up for his first race with his friends in 1984. Since then, he hasn't stopped.
"I didn't realize it at the time, and popular culture didn't have a metaphor for it, but I gained a survivor mentality and didn't want to be voted off the island."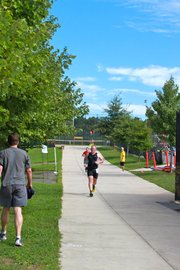 Although many of those friends do not join him for the race anymore, his bicycle remains constant. He rode the same one throughout all 31 Reston triathlons.
"It's an antique now," he said.
Both Medoff and Uhrig were recognized by the Reston triathlon Board of Directors during the awards ceremony. This year, Hunter Mill Supervisor Cathy Hudgins and state Senator Janet Howell (D-32) handed out trophies for the top three participants in each age category.
"Our race is unique in that it is a community event," said board member Donna Rostant.
This year's race course was changed to an Olympic-official course in preparation for next year's World Police and Fire Games.
"The swim was a little bit shorter, the bike was a little bit longer and the run stayed the same," she said. "We started planning this race nine months before it began."
The Reston Triathlon opens for registration in November, almost a year from the event's date. By the end of the month, however, it is usually full with a wait list.
This year, 700 people signed up to race. Rostant said 454 people showed up at the starting line at Lake Audubon that morning. She stated that at most races, 25 percent of the people who signed up may not compete on race day due to injuries, illnesses or other reasons.
Nearly 1,000 volunteers were called upon to feed the athletes, cheer them on and help with morning registration.
"We've got great community support," said Rostant. "Without them, we couldn't make it happen."
Reston resident Tom Conrad was one of those volunteers on Sunday.
"I did the first triathlon, just as Neil did," said Conrad. "My family member have done it. One year, all three of my kids did it."
Sarah Bunn's children were also involved in the triathlon, but in an unofficial way. As she finished the last leg of the run on South Lakes High School track, her two children Chris, 10, and Coleman, 13, ran alongside her.
"The first triathlon I ever ran was in 1989," she said. "It's a sport you can do forever, which is my plan."