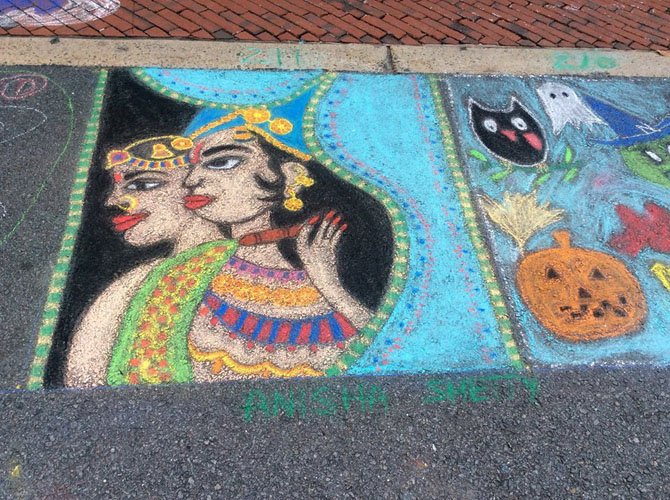 Amazing art lined the streets of Reston Town Center during the Reston ChalkFest event. Adults, teens and children had an opportunity to color the bricks of Reston's Market Street between Library Street and Presidents Street. The event was presented by the Initiative for Public Art Reston (IPAR) in collaboration with Reston Town Center. Professional artists and art teams started their work on Friday, Sept. 5. Other artists had the opportunity to work on chalk art from 7 a.m. to 4 p.m. on Saturday.
Award Winners
Professional Artist Winners
1st prize: Penny Hauffe
2nd prize: Erica Fallen
3rd prize: Lynn Nguyen
1st prize: Penny Hauffe
2nd prize: Daniela Munoz
3rd prize: McKinley Gillespie
1st prize: Oishee and Rovnakwie
2nd prize: Alexa Alfeo
3rd prize: Anisha Shetty
1st prize: Daniela Munoz
2nd prize: McKinley Gillespie
3rd prize: Kara Brownback
The Reston ChalkFest's objective was to make art a communal activity. In June, IPAR teamed up with the Friends of Lake Anne to present Chalk on the Water, a chalk festival held at the neighboring Lake Anne Village Center. There visitors watched as 150-plus artists made artistic chalk murals on the bricked plaza. Some of the artists who were in the June chalk art event participated in the September ChalkFest show.
"IPAR is extremely pleased to collaborate with Reston Town Center to bring the first chalk art event to Town Center," said Anne Delaney, executive director of IPAR. Chalk art, also referred to as street art, pavement painting, and sidewalk art, is a form of temporary public art that can engage not only professional artists but also amateurs, families and kids.

Only chalk was permitted for drawings. Paint, crayon, ink or other non-washable or permanent products were not allowed. Registered ChalkFest members from Northern Virginia spanned from Reston to Ashburn and Centreville. Participants in the art event were allotted an individual art space along with a box of 24 colored chalks. Water was provided to be used for drinking or erasing. Participants were encouraged to bring their own snacks or visit the surrounding restaurants and cafes in Reston Town Center.
Professional mural artist Patrick Owens, who has done chalk art projects for over eight years held a workshop at Reston Town Center to review chalk art techniques and strategy. Some artists can earn sums for chalky masterpieces. Artist Cesar Sanchez-Morazzani was commissioned to create a Van Gogh-inspired 15'X10' chalk piece in front of the Mayflowers florist store in Reston Town Center, on the Promenade.
ChalkFest was also an opportunity for professional artists, amateurs, and families to win prizes. A cash grand prize went to first place in the Professional Artists category, though first through third place prizes were awarded in other categories as well. Tickets for this event were sold online or purchased at the event. Funds raised from the event will help support IPAR's programs. ChalkFest sponsors included Boston Properties, Reston Community Center, Reston Association, Access National Bank, and Mayflowers. To read more about IPAR visit www.publicartreston.org.