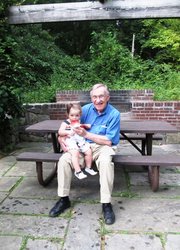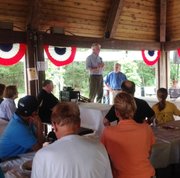 The powerful thunderstorms that drenched Northern Virginia Saturday night had the good sense to wait until the crowd of similarly powerful forces of nature – aka political VIPs - rallied, stumped and socialized at Del. Ken Plum's (D-36) Annual Summer Picnic and Pre-Election Rally.
The Democratic fundraiser, now in its 10th year, was hosted by Plum and his wife Jane, at the North Hills Picnic Pavilion from 4 to 6 p.m. on Sept. 6.
The popular family event drew a diverse crowd of about 150 people, including top-tier Democratic notables and hopefuls. Special guests included Congressman Gerry Connolly (D-11) Virginia Attorney General Mark Herring, Virginia Senator Janet Howell (D-32), Fairfax County Sheriff Stacey Kincaid and Hunter Mill Supervisor Cathy Hudgins.
Herring and Connolly pumped up the crowd with upbeat, amusing speeches in support of Dranesville Supervisor John Foust, the Democratic candidate in the hotly-contested campaign to win the 10th District Congressional seat. He is running against Virginia Delegate Barbara Comstock (R-34) to capture the coveted seat held for 34 years by retiring Congressman Frank Wolf.
Connolly joked with the crowd about the need to turn out and vote for Foust.
"We don't need someone as polarizing as Barbara Comstock in Congress," Connolly said, before introducing Foust to the podium. "I have enough problems with (California Congressman) Darrell Issa."
"I think I have a good sense of right and wrong, and I think it's just wrong for the government to get involved in our personal lives," Foust said during his speech to the crowd. "We don't need the government coming between patients and their doctors."
"John is an unusually empathetic man," said Howell. "He listens very carefully to people and he cares deeply about the issues affecting all of us here in Northern Virginia."
While Herring and others stumped for Foust, Plum's 15-month-old granddaughter Sophia Niday captured the crowd's attention, and was unofficially voted the "Cutest Baby to Kiss."
"Sophia is completely in love with her grandparents. She is excited to support him for years to come," said Augusta Niday, Plum's daughter and Sophia's mom.
"The family picnic has been going for about ten years and is a great way to connect with the community. We were lucky to enjoy the event before the skies opened up!" Niday said.