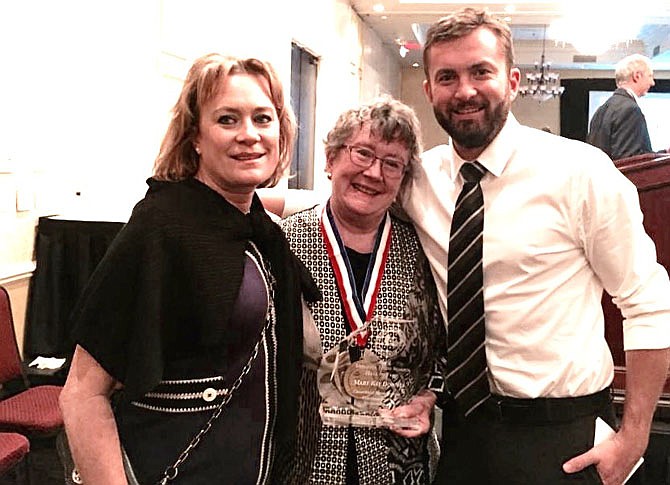 Chantilly — Mary Kay Downes has won her share of awards over the years; but now, she's seemingly reached the pinnacle. On Oct. 15 in Charlottesville, she was inducted into the Virginia High School Hall of Fame.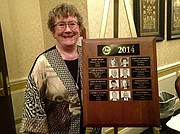 "I was pretty excited, as most inductees over the past 25 years have been coaches or athletes," she said. "And it's very rare for someone still working to get in."
Downes has taught journalism for more than four decades. The past 25 years, she's been Chantilly High's yearbook advisor and, during that time, it's won more than 50 state and national awards.
She's also chairman of the English Department and teaches senior English classes, plus photo journalism – which is the yearbook-production class. "I was always involved in journalism," she said. Downes worked on her high-school newspaper and magazine in Albany, N.Y., and was on the yearbook, newspaper and literary-magazine staff at Nazareth College in Rochester, N.Y.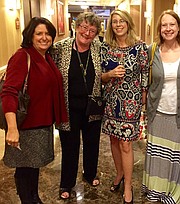 She first advised a high-school yearbook class in Maryland when she began teaching in 1965. "My husband was in the Army, so we moved all over," said Downes. "I taught college-level in Missouri and adult education to soldiers at Fort Bragg, N.C., and also taught at Department of Defense schools in Germany."
But, said Downes, "I didn't get involved in hard-core journalism and yearbook until I came to Chantilly and became involved in the National Journalism Education Association (JEA) and Columbia Scholastic Press Association and really saw the potential of what participation in a yearbook program could mean to students."
Looking back over the past 25 years and seeing what her former students have accomplished, she said, "What makes me proud is that among them are editors, graphic designers, journalists and authors. And they all say that being in the yearbook program taught them time management and how to deal with others in a constructive way."
It's because she lets her students take the lead, said Downes. She has 55 total in her two yearbook classes and, she said, "I teach them how to run the program and, foremost, communication skills through writing, photography and design – real-life experiences."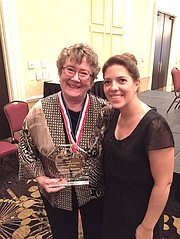 A yearbook's important, she said, because "It preserves the story of the year – it's the history book and the keeper of memories. It's a tangible thing that people don't realize how much they'll appreciate 25 or 30 years later, when they want that story."
But Downes said it's also wonderful "to see the students' faces when they receive it. The giggles, excitement and squeals of delight are the immediate, sheer pleasure of the yearbook. The long-term pleasure is to see what the skills they've learned in yearbook class have done for them as adults."
Chantilly's yearbook includes numerous personal profiles because, said Downes, "We feel one person's story is the story of many. Students answer open-ended survey questions and the editors choose stories they didn't know about and that are unique. And these stories, plus ones about other elements of high-school life, are told from the students' perspectives."
The yearbook students also make a particular effort to make sure the stories are specific to that year. That way, said Downes, "The facts, dates and details are almost time-stamped and couldn't be used, for example, two years before or later."
They do it by interviewing as many people as possible, including coaches, athletes, parents, administrators, etc. They also try to get as many photos and captions on each page as they can. "The students really enjoy that, so we're changing our design this year to add even more," said Downes.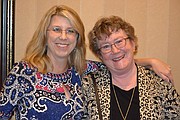 Every year, the students brainstorm and decide on a theme. "It grounds them so the story of the year won't be too broad, but is specific," she said. "For example, last year's was 'We'll Show You,' with lots of bold pictures and really vivid color-packages and designs. It was a pride-in-school theme."
This year's is "Chantilly 360," with emphasis on telling all sides of every story – including things people wouldn't think of – via the yearbook's design. And experience isn't necessary to be on the yearbook staff.
"The designers and photographers tend to develop toward those areas, but the writers do need to have some writing ability," said Downes. "The students teach one another how to use the computer programs, and I'm the guiding force and problem-solver. There's no direct, classroom instruction – it's a real, hands-on work experience."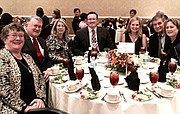 In addition, she takes about 11 students to a yearbook camp each summer, and many attend yearbook conventions in New York and other cities. "I also have them see examples of good writing in yearbooks," said Downes. "And I have experts in writing and photography come and speak to them."
Toughest part about producing the yearbook is "making the deadlines, because it's a 386-page book and very detail-oriented," she said. "Deadlines run from October on, and we send 40-90 pages at a time electronically to the printer." Best, said Downes, is seeing everything flow together and the students work well together and develop leadership and management skills.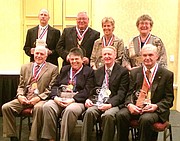 Regarding her induction into the Virginia High School Hall of Fame, she didn't learn about it until June – and it was a complete surprise to her. She was nominated by the JEA state director and got letters of support by Chantilly High Principal Teresa Johnson and others.
"I was flattered, humbled and delighted," said Downes. "I actually squealed when I got the letter in the mailbox." She was one of eight people inducted this year. Most were retired coaches, plus one principal and one other journalism adviser from Halifax County.
"I'm so grateful and thankful that it's spurred me on to keep doing what I'm doing," she said. "I'm never going to retire. To me, it also recognizes my students' accomplishments, so I accepted it for them, too." Actually, added Downes, "This is the first time two journalism advisers have been inducted in the same year. The other one has been retired for 12 years, but I guess they couldn't wait me out."
Downes: A Woman of Many Letters
Throughout her career as a teacher and high-school yearbook adviser, Chantilly High's Mary Kay Downes has left her mark. Below is a brief listing of the organizations in which she's involved and some of the acclaim she's received:
Downes has taught journalism for more than 40 years, 25 of them as adviser to Chantilly's award-winning yearbook, Odyssey. During her tenure there, Odyssey has earned 21 Virginia High School League (VHSL) Trophy Class distinctions, 18 National Scholastic Press Association (NSPA) Pacemaker awards and 10 Columbia Scholastic Press Association (CSPA) Crown awards. Odyssey also earned four VHSL Charles E. Savedge Awards for Sustained Excellence in Scholastic Journalism, Yearbook Category.
Downes is founder and past-president of the Association of Fairfax Professional Educators (AFPE) and past-president of Columbia Scholastic Press Advisers Association. She's currently on the board of the Virginia Association of Journalism Teachers and Advisers (VAJTA) and on the executive board of the Southern Interscholastic Press Association (SIPA).
She's served as a yearbook judge for NSPA, CSPA and state associations and provides on-spot critiques at CSPA and the Journalism Education Association (JEA) national conventions. In addition, she presents at and accompanies students to four journalism conventions each year. Downes has written many articles printed in state and national journalism publications and has served as a mentor to seven, new, FCPS publication advisers.
Her numerous awards include the Virginia Association of Journalism Teachers and Advisers (VAJTA) Douglas Freeman Award and Thomas Jefferson Award; the CSPA Gold Key award; the NSPA Pioneer Award; the Herndon-Dulles Educator of the Year Award; JEA National Yearbook Adviser of the Year; JEA Medal of Merit, and SIPA Elizabeth Dickey Service Award; and Virginia High School Hall of Fame inductee.