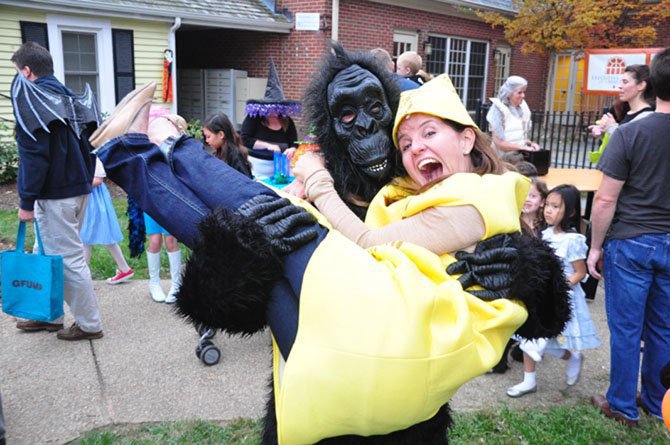 Halloween is going to be a scream at the Village Centre Green and Great Falls Shopping Center.
Spooktacular, the village's annual children's trick or treat event, will line up local businesses armed with candy and decked out in costumes on Oct. 31 from 5 to 7 p.m.
"Spooktacular started 20 years ago when Great Falls was still very much a rural community," said Celebrate Great Falls Director Erin Lobato. "There really weren't any neighborhoods with sidewalks. Kids would get exhausted by the time they got to their second house."
About 400 children show up annually dressed up in spooky and creative costumes, she said. Many families come dressed in theme with one another, as well.
Even dogs come dressed up. The pet parade will be held from 4 to 4:45 p.m.
"The pet parade has gone on for nearly just as long," said Lobato.
She said that some of the families that attend have gone for years. Some parents even remember coming as children to the event when it first started.
Mary Bilbo is one of the many residents who brings her family every year to the event. She said she likes to end the night with a family dinner at The Old Brogue.
"We are big Halloween fans, and the Spooktacular is special to us," she said. "The kids don their costumes and trick or treat in the village. It's a chance for us to see friends and other children having fun and socializing."
Although local businesses are involved, Lobato said, their focus is to give back to the community rather than promote their stores. Many shop owners even dress their storefronts up to the theme. She said Adeler Jewelers are known for their spooky porch.
However, she said the main event of the night is the haunted house. Originally started as a Boy Scout Eagle project, it was taken over by Great Falls Friends and Neighbors for years. However, Boy Scout Troop 55 is taking it over starting this year.
"I feel like it's come full circle," said Lobato.
Troop 55 Scoutmaster Gary Pan said the boys are very excited to construct and run the haunted house this year.
"We were concerned that Great Falls would lose the haunted house like we lost the fireworks this year, so we decided to step up," he said.
He anticipates that changes to the haunted house might be made in the future. However, they will keep to the spooky abode's traditions, because it is a transitional year.
"They think this is great," he said. "Many of them had participated as trick or treaters when they were younger."