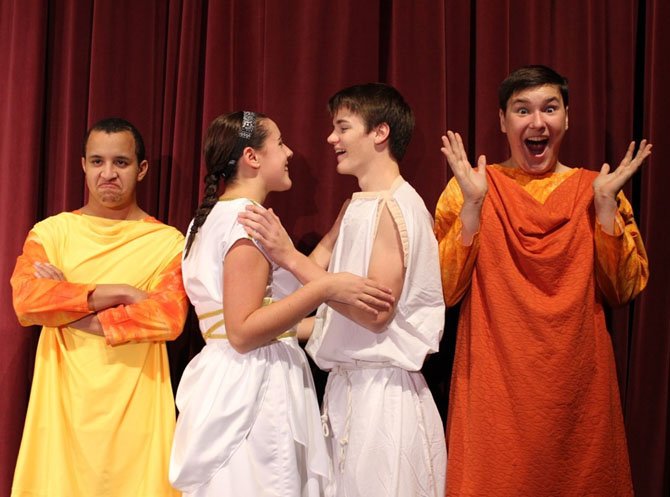 Featuring a cast and crew of 45, Chantilly High presents "A Funny Thing Happened on the Way to the Forum."
The curtain rises Wednesday-Thursday, Oct. 22-23, and Saturday, Oct. 25, at 7 p.m., and Sunday, Oct. 26, at 2 p.m. Tickets are $10 at www.chantillyhsdrama.com and $12 at the door.
"It's fun, goofy and over-the-top," said Director Shannon Khatcheressian. "It's nice doing this comedy because all the actors bring their own, subtle nuances and enjoyable character choices to the stage."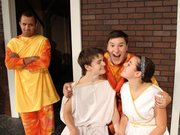 She and senior Alycia Adams did the choreography for this musical; Chantilly Choral Director Evan Ayars is the show's vocal director. The story takes place in ancient Rome and promises to be an entertaining treat for both the eyes and ears.
Award-winning art student Mia Rickenbach designed the set showing three Roman houses. And head costume mom Kimberly Warnick clothed the actors in cheerful, eye-catching outfits.
"She designed an amazing array of costumes based on a beautiful, jewel-tone, color palette," said Khatcheressian. "Her modified togas really add color and vibrancy to the characters."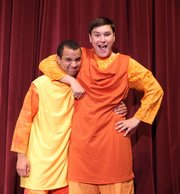 In the story, a Roman slave named Pseudolus tries to win his freedom by orchestrating a marriage for his master. "But nothing goes according to plan, so Pseudolus has to make his lies bigger and more extravagant," said Khatcheressian. "And as he involves more and more people in his lies, the story explodes into utter chaos."
Delighted to bring this show to the Chantilly stage, she said, "It's a musical-theater classic and the storyline is absolutely hilarious. It's a night of really great music and side-splitting comedy."
Portraying Pseudolus is sophomore Adam LeKang. "He's Hero's slave and the mastermind behind the plan for Hero to marry Philia," said LeKang. "He's smart, cunning and always lies his way out of problems. For example, he claims to be other people to manipulate his way out of situations. He does these things because Hero promised Pseudolus his freedom if he got Philia to marry him."
LeKang's enjoying his role "because of the craziness of everything Pseudolus does and says, and all the things he gets himself into and out of." His favorite song is "Free," in which he sings about how different his life would be if he were free. It's a really catchy, fast-paced song."
He says the audience will love the "ridiculous humor throughout the whole show. There's misdirection, lies and deceit that wouldn't happen in real life — and that's what makes it so funny."
Junior Hannah Warnick plays Philia, a virginal courtesan in the House of Lycus. "She's promised to a military captain, but she eventually falls in love with Hero," said Warnick. "She's really bubbly, ditzy and incredibly stupid — she was only taught beauty and grace."
Warnick's having a good time experimenting with her character's silly and out-there personality. "It's out of my comfort zone and I get to interact with multiple cast members," she said. "And I've never played a character in love before." She especially likes the number, "That'll Show Him," which she sings to Hero. "Philia's telling him, 'I'll be with the captain and will be kissing him, but I'll be thinking of you,' and Hero's not happy about it," said Warnick. "So there's a lot of acting in this song."
Calling the show "fun and upbeat," she said, "The musical numbers are energetic and exciting to watch. And at one point, there's mass chaos, and it's funny to see how everyone's stories get mixed together."
Senior Druw Austin portrays Hysterium, servant to Senex and Domina, Hero's parents. "He's the slave-in-chief, in charge of all the other slaves," said Austin. "But he's panicky and jumpy and does everything quickly, with lots of nervous energy. He's a rule-follower and, when rules are broken, he freaks out and gets even more panicky and makes quicker motions."
Austin says it's a difficult role for him, because he's normally a relaxed person. But he likes his character's comedy. "Everybody Ought to Have a Maid" is his favorite number, and he sings it with three other people. "I like this choreography the best," he said. "And it's a funny song because it's a parody of how women should be treated."
He said the audience will like how the story's set in ancient Rome, but has modern-day humor. And, he added, "All the costumes are great and have very vibrant colors."
Playing the 20-something Hero is senior Chandler Derbyshire. "He's book-smart, but not street-smart," said Derbyshire. "He comes from a wealthy family and has been sheltered, so he's curious about the world. And he's fed up with Pseudolus always trying to find ways to become free — although they're more friends than slave and owner."
Derbyshire's enjoying his part because "It's fun to act like an idiot and I like all my cast mates." He's one of four cast members who are also in Chantilly's choral ShowStoppers, and he especially likes the song, "Pretty Little Picture," which he sings with Warnick and LeKang.
"Pseudolus is singing about a fantasy of what our lives could be someday, and Philia and Hero sing harmonies with him," said Derbyshire. "It's a new, exciting concept for us to think, 'Maybe we can break the rules.'"
He said the audience should love this show because "there's lots of physical comedy, plus innuendos and a lot of relatable characters, even though they're exaggerated. And there are some pretty chords and harmonies in the songs, plus entertaining dance numbers."