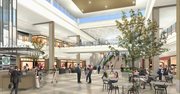 Lee District supervisor Jeff McKay has been preparing for Friday's Springfield Town Center ribbon cutting since he was a kid.
"As someone who's spent my entire life here," said McKay, "I've been acutely aware of the decline over the years."
McKay knew the mall in its heyday, decades ago, when its prestige brought the likes of Princess Diana and Prince Charles through the doors of JCPenney. He saw what the retail center of Springfield could be. And as neglect and disinterest from the ownership in the late '90s and into the '00s saw the property fall into crime-ridden disrepair, he saw that prestigious community center of Springfield deteriorate.
The heavily renovated and rebranded Springfield Town Center that's set to open Friday is just the first of a multi-phase, multi-million dollar redevelopment effort set to play out over the next decade and a half. The goal is for the new mall to drive the future phases, which include residential and office space, as well as open air walking and biking connectivity.
"We talk a lot about revitalization projects and their value," said McKay. "This is one on steroids."
Vornado Realty Trust purchased the property in 2006 and had it rezoned in 2009, with the plan to redevelop the whole area as mixed use.
"All those phases are what really makes the Town Center such a benefit to our community," said Nancy-Jo Manney, executive director of the Greater Springfield Chamber of Commerce. "Live, work and play in that area, smack in the middle of transportation heaven."
WITH THE VAST OVERHAULS that took place with the Springfield interchange and infrastructure in the area, McKay believed the old mall was wasting his constituents' resources.
When Vornado said they wanted to move forward with redevelopment, McKay helped prioritize and organize the zoning and permitting processes. "We made those investments as the public," he said. "We expect the private sector to repay on those investments."
So far, the surrounding community is supportive of the redevelopment that's been years in the making.
"Patience is a virtue; in Springfield it can almost be a religion," said Bruce Waggoner, president of the Springfield Civic Association. "When these things finally occur, it renews your faith in why you live here. Otherwise, why would you? People are invested."
In June 2012, Vornado closed everything but the three main retailers and began reconstruction. They effectively gutted the existing structure and in the remodel paid special attention to safety features like lighting and dead-end hallways, negatives in the old mall that contributed to numerous "opportunity crimes."
To compete with the likes of Tysons and Dulles Town Centers, and to attract the clientele that would potentially drive the residential and corporate development phases, Vornado assembled a more upscale list of stores and restaurants, including J. Crew, Michael Kors, British retailer Topshop, Maggiano's Little Italy and Yard House rock pub.
SHOPPERS CAN ALSO EXPECT lifestyle enhancements including a completely re-imagined food court, movie theater complex and an LA Fitness gym, complete with swimming pool and basketball courts.
Vornado has invested around a quarter of a billion dollars, though earlier this year announced it was selling the mall for $465 million to retail specialists Pennsylvania Real Estate Investment Trust (PREIT). The deal is set to close some time in spring 2015.
"The trade area, with density, high income, low unemployment and a growing population, and the location are unmatched in our minds," said Heather Crowell, PREIT Vice President Corporate Communications and Investor Relations. "We saw tremendous opportunity in what is currently a market that is underserved by retail."
Whether that opportunity is realized will depend on response to the new mall's upscale tenants.
"The impact is really going to be founded based on whether they can bring in high paying clientele," said George Mason University professor of finance Gerald A. Hanweck, "and get a volume into what was a sinking ship."
"The mall is going to be bigger, in what it can produce beyond itself," said Waggoner. "It's not just the mall, but what other people want to develop here and do business here because of the mall. It's the nucleus, and the center of gravity for the community."