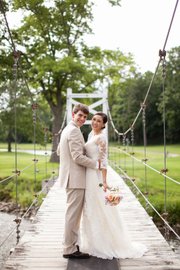 Lauren Kelly Binzer, daughter of Dr. Randy and Tennie Binzer of Spencer, and Craig James Cunningham, son of Clark and Kathy Cunningham of Spencer, received the Sacrament of Holy Matrimony on June 28, 2014 at St. Mary's Catholic Church in Iowa City. The reception was held at the Cedar Rapids Country Club in Cedar Rapids, Iowa.
The Binzer family formerly resided in Herndon. Lauren graduated from Herndon High School in 2008 where she played on both the girls basketball and lacrosse varsity teams.
Lauren graduated from The College of William and Mary in Williamsburg in 2012 and received her Master of Public Health degree from the University of Iowa in May of 2014. She works as a program coordinator for at-risk children and youth with special health care needs at Child Health Specialty Clinics in Iowa City. Craig graduated from Iowa State University in Ames, Iowa in 2012 and is in his third year of medical school at the University of Iowa Carver College of Medicine.
The couple honeymooned in St. Kitts and currently resides in Iowa City.